Can streaming services hit a high note?
OMD's Nick Barbuto and Touche!'s Emily Malloy-Manuel on audience and brand potential for the services, as Spotify gears up for its Canadian launch.
Long bubbling in the market, music streaming services are turning up the volume this fall with announcements from players like Rdio, which launched its free version earlier this month and Spotify, which is slowly entering the market. Last week the company announced it is now giving advance memberships away through brand partners like Subway, Diet Coke and Heineken.
MiC asked Nick Barbuto, managing director, Ignition Factory at OMD, and Emily Malloy-Manuel, digital media director at Touché!, about the potential for the emerging services in the market.
Music streaming services are still a relatively unknown category in Canada, do you think they will pick up in popularity and how long until they reach mass awareness?
Barbuto: At a macro level these services have been around since the mid 2000′s, Rhapsody, Yahoo Music and others have been darlings of looking at what the music experience of the future could be. There has been a natural trajectory towards paying money to access everything rather than for one thing for quite awhile. It is a natural evolution and we have seen all kinds of business models to support it, be it ad-supported with limitations around the categories you could listen to or number of songs you can skip, all the way down to the pure subscription models.
I think the radio market still has a few key niches, I personally love talk radio and I don't think that is fulfilled in some of these subscriptions services. Other things like local news and live sports will surely start to evolve onto services like this. It's like Netlfix, they have cornered the market on certain niches and once they start adding those additional markets I think they will achieve even more critical success.
In the broader sense that is what will bring the masses to these types of environment. But I think it is also a generational play. If I ask my mother if she would rather own or rent that answer is absolutely own. If I ask my little cousin, who I definitely ask these kinds of questions, she would rather have access to everything rather than owning parts of it.
Some generations are going to say the radio isn't enough like the internet for them because they can't control it as much as they would like.
Malloy-Manuel: It's been more a question of availability versus demand. Speaking from experience, if anything it's been that consumers have been dying for a quality streaming service comparable to global offerings. So I believe it will be an extremely quick adoption due to the fact that consumers have already grown accustomed to on-demand services through other channels.
What are the opportunities and risks for brands around getting involved with music streaming services?
Barbuto: I think the opportunities and risks are pretty consistent with what was available on traditional radio. The experiences are largely the same as the ones you would find in other formats. With radio there are decency standards, profanity on a radio station is few and far between, but in a digital eco-system you may have to live with that a little more.
There are also opportunities made available by tapping into the data in this eco-system. Whether it is triggering ads based on different variables like weather or a sports score, it makes ads a lot more living and pliable than they have been in the past.
I believe music streaming services have been lusted after in Canada for some time. It's tougher for us because of licensing issues that mean we usually don't get everything when they first launch in the US.
Malloy-Manuel: From my perspective there aren't that many negatives that jump out. From a brand standpoint it's good to get these early adopter learnings. Considering that we can layer on data to be much more effective in the targeting, it becomes an alternative to radio in every sense of the form.
All in all, this picture perfectly sums up my feelings on the subject. Our music wants and needs have evolved and bottom line, it's an opportunity for advertisers.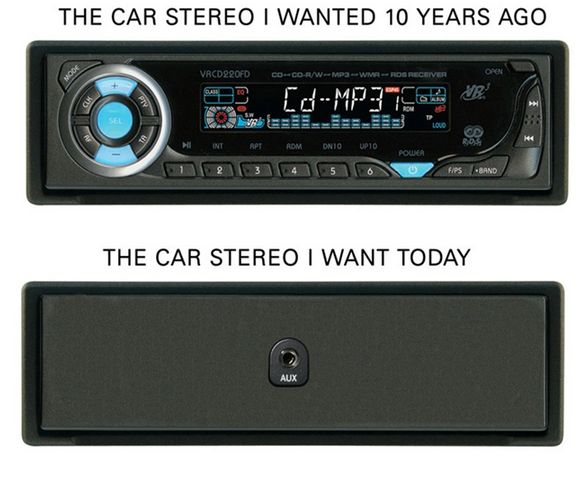 Feature image courtesy of Shutterstock