Telus Optik gets GO-ing
CTV GO is now available to more subscribers in Alberta and British Columbia, reaching 50% penetration Canada-wide.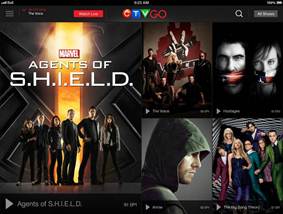 Bell Media has reached a deal to make the CTV GO service available to subscribers of Telus Optik TV.
As with all users of CTV GO, Telus subscribers can now stream CTV's content across desktop and mobile platforms at no extra cost to their cable subscription. Telus Optik expands the service further in Alberta and British Columbia, with a press release from Bell saying the audience now numbers nearly six million Canadians. Domenic Vivolo, executive VP of content sales and distribution marketing at Bell Media, tells MiC that is roughly 50% of CTV's current audience through traditional television.
When the CTV GO app was launched last November, Bell Media said it planned to eventually make it available to all television subscribers. In addition to Telus, it is currently only available to those with television subscriptions through Bell and Shaw, which struck a deal to provide the service in May. Each of Bell's other GO apps are in different states of availability with the various BDUs.
"We're not going to be happy until we get it available to 100% of Canadians," Vivolo says. "Over the course of the coming months, we will still be working closely with each service provider. Each one is in a different stage of the negotiation."
Vivolo says that there have been two main roadblocks to finalizing the deals. The first has been the technical details of getting BDUs to be able to authenticate customers who are able to use the GO product and turn the information over to Bell in a timely manner. The second has been coming finalizing the business piece of the deal, which Vivolo says was the case with Telus, and is typically the case with most of the large providers that have the technology to provide the level of authentication Bell requires.
"For any product, a lot of BDUs wait until their affiliation agreements end, so it's a deal for all the services at once. There are times where, if they really want the product, they will negotiate within the terms of the contract, but that depends on the BDU and what stage of deployment the product is in."
Vivolo says Canadians can expect to see GO apps from the company's other networks available to Telus subscribers in the near future.