The Mission: Reaching the elusive young male
Sheri Metcalfe, SVP and co-managing director at Jungle Media on where to best get ahold of the target.
Knowing your target is one of the pillars of good media planning and buying so MiC is delving into the space with The Mission, a series that asks how different market segments can be best reached. This week we have Sheri Metcalfe, SVP and co-managing director at Jungle Media on how to best reach young males.
By Sheri Metcalfe
Ahh…the elusive young male. So tricky to reach yet so predictable – or is he? Sure he is a digital native, and the computer is his vast yet familiar habitat. The 19-to 29-year-old male spends upwards of 17 hours a week online and countless more on his smartphone, making the connection options plentiful. But rising above every other brand targeting him there is the trick. The sheer clutter and fragmentation can render your brand's efforts less than impactful. Look for opportunities to connect by his passion points, in a way that ensures recall and drives action.
And what of other connection options to reach our young male? Because he is a relatively light TV viewer at 15 to 16 hours per week, the media strategist must be surgical with the buy approach. He survives on a diet of specialty station staples, such as Pawn Stars, Wicked Tuna and Duck Dynasty, but of course will never waiver from the show built just for him: Family Guy. I might say he does spend an inordinate amount of time viewing 2 Broke Girls, but I digress, his viewing of these guy shows has been constant, and he has remained loyal year over year, unlike his girlfriend who has proven to be more fickle in her viewing over time. He lives in the moment and rarely PVRs, choosing to watch shows live. And of course the best example of this would be sports, a dish that can only be served hot!
But our young male is an explorer and has a built-in need to experience life to its fullest. As such he is always out, connecting with his endless contacts, friends and hangers-on.
These nightly and daily afternoon prowls can be described as his other full-time commitment, on top of his full time job. Yes, OOH messaging should always be a top contender in reaching this young male, but like digital, standing out and making a splash is the key. Connect with him at his passion points, and make the link between him and your brand a natural fit.
Nike has set a high water mark in connecting with him in a variety of out of home campaigns over the years –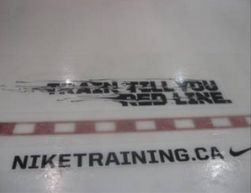 creating media that didn't previously exist. One recent example with work from Cossette Media was its hockey arena training efforts, targeting high-calibre hockey players. The campaign, which was created for Nike's Sparq training equipment, was shortlisted for a Cannes Lion in 2010.
Reaching the Canadian young male takes a little more planning thought to deliver your brand in places beyond the obvious. Yes to digital and mobile and late night TV and sports, but make these connections fresh and unpredictable and you may have a lifelong friend – or at least a summertime fling.