Sponsors help light up Scotiabank Nuit Blanche
Sponsors are utilizing the all-night festival's emerging visual artists to create activations that look more like art installations. (Scotiabank's 1nspired Night pictured.)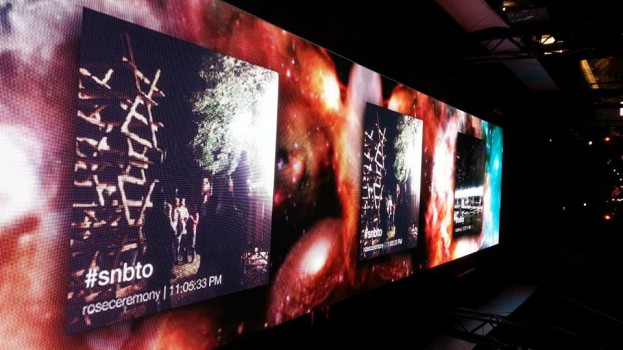 Instead of doing something ultra-branded, sponsors of Scotiabank Nuit Blanche are getting up-and-coming artists to contribute to their activations to fit in with the environment and spirit of the visual art festival.
This year's edition of the Toronto visual arts festival – which starts at sunset on Oct. 4 and runs until sunrise the next day – is expanding from its usual home bases at King Street and Nathan Phillips Square to areas like Chinatown, Fort York and Roundhouse Park. While Nuit Blanche is an event built on experiences in the public space, the City of Toronto works with sponsors to ensure their activations are able to both fit in with the event and get the attention they are looking for.
"We treat sponsor activations similarly to how we activate the art exhibitions that we're producing," Michael Brown, sponsorship manager for the City of Toronto, tells MiC. "We give them a lot of time and attention, looking at the public space and navigating how the audience will move through it that night. There's strategy and structure [to] maximum flow and so everyone's works will be seen."
Title sponsor Scotiabank is bringing back its 1nspired Night activation after a positive response at last year's festival, working with S&E Group and KBS. By tagging photos on Twitter and Instagram with #snbTO, festival-goers can have their experience included on a 100-ft. screen on Spadina Avenue, just south of Richmond Street. To add something different this year, the bank has brought in artist Jeremy Sutton, who will be creating digital paintings inspired by Toronto landmarks that can be integrated into the feed, both live and for those following the hashtag from home.
While Scotiabank is enhancing its social media experience, H&M is looking for a more on-the-ground experience for its second year as a sponsor. Coalesce by Lizz Aston will take 400 clothing items collected through the fashion retailer's garment exchange program and intertwine them to fill a glass facade at the fashion retailer's Queen St. West location.
"Last year, our activation had more of an interactive and social media component to engage people," says Emily Scarlett, communications and press manager for H&M. "This year, the idea was to put an installation in that communicates the massive scale of how many clothes wind up in landfills, which you can really only do through something that's in-person."
Other sponsors for this year's festival include:
Subaru, which is letting artists Gene Pendon and Marisa Gallemit transform the exterior of Outback and Legacy vehicles through painting and sculpture, respectively, with a futuristic slant during Wild Air Vision Electro. Brown says that the fact that the artists are working live gives attendees a chance to feel involved with the work and return to it to see how it changes through the night.

Renova, which is offering up its coloured bathroom tissue product to Luigi Ferrara, dean of the Centre for Arts & Design at George Brown College, using it as the building blocks that will make up The Garden of Renova, a location the public can explore and interact with.

Continuing on the sustainability theme from H&M, Toronto Hydro has given a refrigerator collected through its Fridge and Freezer Pickup program to Jose Andres Mora to create Solar Dehydrator, a food dehydrator that uses solar power and can be built at home.

The only new sponsor for 2014, condominium community Concord CityPlace, is taking advantage of the festival moving into its neighborhood south of Front Street by showing off its 47-acre public art collection, the largest in the country.
Last year, an Ipsos Reid poll said Scotiabank Nuit Blanche had over one million visitors, 190,000 of which came from outside the GTA for the event, with a primary audience between the ages of 18 and 34.
Photo courtesy Ivan Buenader