Kiip's play to make video rewarding
CEO Brian Wong on how his company's new ad unit aims to right the wrongs he is seeing on mobile video.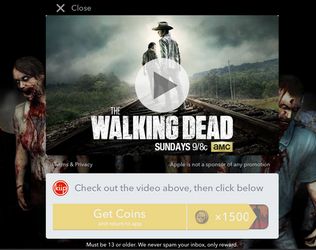 San Francisco-based advertising platform Kiip has introduced a new product, the Kiip Rewarded Video. The Canadian-founded company uses its platform to place ads around moments of achievements for users in apps, like beating a level in a game.
Brian Wong, CEO at the company, tells MiC the new product allows clients to take advantage of achievement moments in apps with experiences like congratulating a user for beating a level in a game with virtual coins by viewing a 15-second branded video.
He adds that Kiip waited until now to expand into video from its static-image ads because he feels so much of what is being done with moving pictures on mobile is wrong.
"I think everyone has been doing video wrong on mobile because they were rushing into it and pouring video over from TV," he says. "One of the things we have been trying to focus on is not just taking the addiction of pouring the content over but looking at it in a way that respects the consumer."
While in beta the new unit was used by AMC's The Walking Dead, targeting consumers on its Into the Dead first-person zombie mobile game. When users beat their high score they were invited to earn virtual currency by watching a short video that teased the season four premiere of the show.
Wong says clients working with Kiip generally invest in a mix of image and video-based ads, with a built-in algorithm choosing the occasion where each would be best suited, with faster-paced games working well for images because of the short time break between levels, and slower-paced games like puzzles better fitting the video-ad space.
Test results from Kiip Reward Video saw view-through rates with an average of 77%. The new ad unit has also been used with other clients, including Trident and McDonald's.
Recent research from Kiip and IPG Mediabrands showed that reward-based advertising boosted brand favourability with consumers by 14%, while banner ads decreased the respect for brands by 7%.
Purchase intent was also boosted for brands that used mobile rewards, going up by 82% versus 6% for companies that had used banner ads. More people also thought of brands that used rewards as premium (35%) than those who used banner ads (5%).