TSN.ca brings mobile into the game
The redesigned website puts an emphasis on sports content rather than what's on the channel at the time.
TSN relaunched its website across all platforms on Thursday, focusing the new site on an easier path to content and a fuller mobile offering.
Whereas the old website was focused on whatever happened to be airing on TSN at the time, the redesign is more focused on getting users to the information that they are looking for faster. This includes the scores, schedules and stats that visitors will check throughout the day, but also includes information about upcoming major events and breaking news.
Each page presents all related content in way that's easier to access, if not already present on the screen. For example, the score tracker at the top of the site can be switched between sports without having to leave the page, and team pages have upcoming games and the most relevant season stats.
"[Visitors will] already know that SportsCentre is on right now, what they might not know is what time the Ryder Cup starts on Saturday," Chris Collie, associate director of digital at TSN, tell MiC.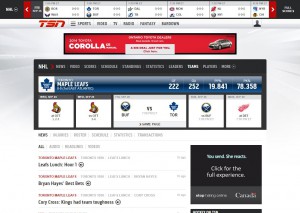 The new design comes with a handful of new advertising opportunities, such as multi-size, interactive IAB Rising Star ad units. News pages feature more prominent video players in an attempt to add to the five million views the site is already getting every month and to allow for more video ads and branded content. There will also be a greater focus on having brand integration, where a company can control a section of the site through branding and owning all available media, says Collie.
He adds another key change was making sure display ads would be "above the fold" so they will be seen without scrolling to address the growing importance being put on brand safety and quality of impressions on display ads.
The redesigned website was developed to be accessible across all devices, not only in terms of visuals and functionality, but in the content available.
"The user was getting one tenth of the experience there, and the goal was content parity," Collie says of the mobile version of the previous site, which didn't carry all of the content available on the desktop version. "There is a feed of content 20 hours a day, and it's finally the same feed across all those devices."
TSN.ca sees 1.6 million unique visitors monthly according to its website. Collie says there will likely be a slight dip in that number as visitors become accustomed to the new interface, but expects a spike after the adjustment period, especially with an expanded offering for the growing mobile audience.
The new website comes one month after TSN launched its series of five national feeds.