Infiniti 'discovers' branded video
The car brand is reaching outside of its regular promotion strategy with Canada Undiscovered, a new series on Blue Ant's Oasis and Travel+Escape channels.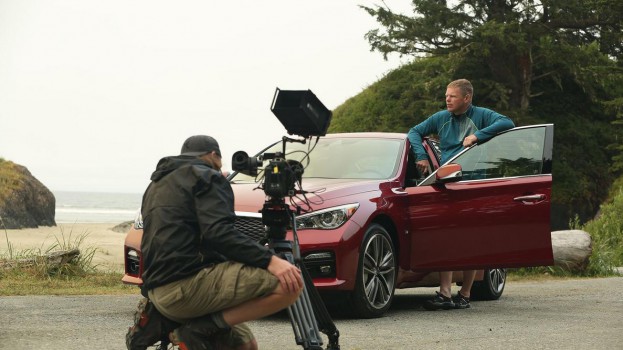 Blue Ant Media has partnered with Infiniti to create Canada Undiscovered, a content marketing program that shows off the company's vehicles and some of the country's most scenic natural landscapes in broadcast and online.
The series, hosted by author and public speaker Sean Moffitt, is centred around three locations that are relatively unknown to the average Canadian, due to their remoteness: Pacific Rim National Park in British Columbia, the Athabasca Sand Dunes in Saskatchewan and Sable Island in Nova Scotia. Four segments will be produced around each location, focusing on their history and what's unique about them, and the journey it takes to get there in Infiniti's Q50 and QX60 vehicles.
The segments will be broadcast as vignettes on Blue Ant's Travel+Escape network and specialty channel Oasis, the first time the latter has been aligned with an integrated content campaign such as this one. Oasis will be broadcasting Canada Undiscovered in 4K resolution, one of the first times Blue Ant has utilized the high-def technology for a content marketing program.
Claire Crombez, strategy supervisor at OMD, says that the 25- to 54-year-old core demographic with a household income over $150,000 on both Travel+Escape and Oasis overlaps with Infiniti's target for the campaign.
"They're business professionals that enjoy travel and can afford to go to extravagant locations," she said about Infiniti's ideal consumer and why Oasis is a good fit for reaching them. "The footage also looks amazing, [the 4K] was an added plus that Blue Ant brought forth."
Blue Ant, Infiniti and OMD collaborated with TBWA for creative and Critical Mass for the digital elements of the series.
All pieces of the campaign are meant to drive Canadians to the Canada Undiscovered online content hub, which hosts all of the segments, as well as behind-the-scenes video content, photo galleries and detailed information and facts about each location. There will also be an editorial series on the site, mostly written by Moffitt about his experiences travelling to the destinations in Infiniti's vehicles, and an opportunity to enter for a chance to win a trip to one of the locations.
Doing a branded content series and being associated with travel and outdoors are both new frontiers for Infiniti. Crombez says that the brand's previous marketing has typically been centered on performance, most recently activating at the Canadian Grand Prix in June around its sponsorship of the Infiniti Red Bull racing team. Because of that, the company's plan had been to pursue more traditional, long-term broadcast and digital buys around sports properties like TSN.
'This is more of a stand-alone when you compare it to the rest of our plan, and it's one of the largest ventures Infiniti has done in quite some time," Crombez says. To increase its visibility in a high-income, more travel-interested audience, Infiniti invested 25% of its marketing budget for the quarter into the Canada Undiscovered campaign.