Toronto Eaton Centre's luxurious play
The shopping centre aims to attract a more upscale crowd for its upcoming flagship additions with its first sponsorship of World MasterCard Fashion Week.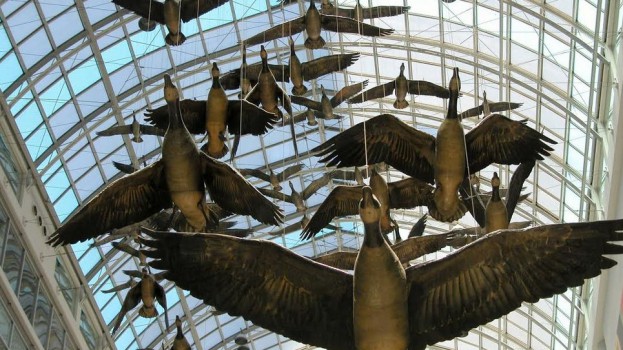 The Toronto Eaton Centre is undergoing a fundamental transformation that will see the shopping centre open two more luxury-targeted flagship stores; Saks Fifth Avenue in 2015 and Nordstrom in 2016.
To attract the more upscale consumers that will visit those new additions, the Eaton Centre has partnered with World MasterCard Fashion Week (WMCFW) to host a series of activations at the mall from Oct. 13 to 24.
Meredith Vlitas, senior marketing director, Toronto Eaton Centre, tells MiC that the deal will see the mall host a lounge on its third level at Trinity Way where visitors can watch content from the runway tents at David Pecaut Square on a two-hour delay so the content can be edited to showcase the clothes and attendees. The lounge will also be updated as retailers from the mall showcase clothing that interprets the runway looks.
The mall will also be hosting a special event with the Toronto Fashion Incubator in the lounge on Oct. 17. Hosted by stylist Erica Wark with Canadian designer David Dixon, the event will feature his designs on stage in the lounge with the aim of promoting the not-for-profit fashion organization.
In addition to the stream, mall-goers will have a chance to get to Fashion Week as the Eaton Centre gives away 24 tickets for each day of the spring/summer fashion shows from Oct. 20 to 24.
Vlitas says the partnership with WMCFW aims to migrate some of the men and women who typically visit Toronto's upscale Yorkville area down to the Toronto Eaton Centre, adding the mall continues to seek out partners that will make it more desirable with the luxury market. The Toronto Eaton Centre sees 48 million visitors per year.
Image courtesy of Toronto Eaton Centre