A guide to music streaming services
A comparison of what each digital music service, including the newly available Spotify, offers in terms of audience size, ad options and user experience.
Now that Spotify has launched for all Canadians, the digital music streaming industry is now fully formed and the race for users is on. Even prior to the launch, use of such services has been on the rise in Canada, and where there are audiences, there are options for advertisers. We've compiled what each of the major players offers consumers and brands alike:
Spotify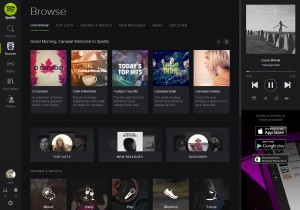 Services available in Canada: After an invite-only beta process that started in August, Spotify launched its free, ad-supported version and its $9.99 a month, ad-free premium version in Canada on Tuesday.
Number of Users: The company says it does not break out its numbers by region, but Brian Benedik, VP of advertising in North America at Spotify, says that the beta process and early days of the launch have been positive enough to expect adoption at a rate that will match the growth it has seen globally. The service has 40 million users around the world, with 10 million subscribers to its premium service.
Size of catalogue: 20 million songs, available without regional restrictions.
Features: Music can be streamed through a web player or free apps for mobile and desktop. Spotify users can create their own playlists or select one based on genre, mood or artist, and features recommendations based on what's popular in a user's area, on the service as a whole and previously listened-to artists. Spotify features social elements that allow users to follow what friends are listening to on the service, or share what they are listening to on other social networks. Premium users can download music for offline listening.
Ad units available: Audio ads run as mid-roll during the stream at a rate of no more than two minutes for every hour of music, most of which is in 30-second intervals. Video ads run as in-page, pop-up billboards, as do display ads, which are also available as standard banners or full homepage takeovers.
Brand partners in Canada: Diet Coke, Subway, Honda, Heineken, TD and Subway Canada are brand partners for the launch.
Integrated content opportunities: In addition to the traditional advertisements on the free tier, all of the brand partners were involved in giving away invite codes to the beta version of Spotify. All of the service's partners have access to its open API, giving them the ability to create branded playlists, with Subway crafting one based on user suggestions. Spotify has also brought on NHL hockey players including Matt Duchene, Claude Giroux, Cody Ceci, Andrew Ladd and Nathan MacKinnon to curate playlists of their own for the Canadian launch.
(Next:Rdio)