Amazing Race Canada is most-watched program of the year
CTV's reality race averaged 2.8 million viewers per episode in its second season, according to Numeris data.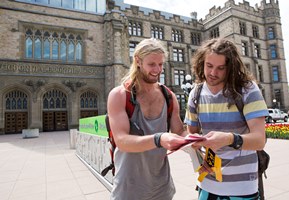 The Amazing Race Canada has been the most-watched Canadian series to date in 2014, pulling in an average of 2.8 million viewers per episode on CTV, according to final Numeris data provided by series prodco Insight Productions.
This makes The Amazing Race Canada the #2 television series in the country, behind The Big Bang Theory, according to the data. More than three million viewers also tuned in for the second season finale of The Amazing Race Canada, which aired on Sept. 21 on CTV.
The first season of The Amazing Race Canada averaged 3.5 million viewers per episode, and peaked at 3.8 million viewers for the final episode.
Premium level sponsors on the second season of the show included Air Canada, Chevrolet Canada, DQ Canada and Scotiabank.
Casting for a third season of the show is currently underway with would-be contestants being asked to submit their audition tapes before the end of November.

From Playback Daily