Can designer tees woo more women to watch football?
The CFL's VP of marketing explains how the partnership with etailer eLuxe will reach new audiences ahead of the Grey Cup.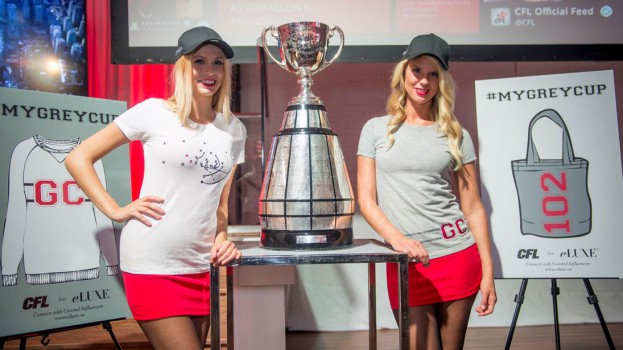 The CFL is trying on a fashion-focused approach to connecting with female audiences ahead of the 102nd Grey Cup.
The football league recently announced it is partnering with etailer eLuxe for a #MyGreyCup program that will leverage digital celebrities to create Grey Cup-inspired designs.
While the CFL says 40% of its viewership is female, the partnership is an attempt to engage existing and new audiences ahead of the Grey Cup (Canada's biggest single-day sporting event) at a time when it knows millions of females are engaging with the brand, says Sara Moore, VP marketing, CFL. Moore says the league averages 750,000 viewers per game broadcast on exclusive partner TSN, with viewership ballooning closer to an average of five million during the Grey Cup.
The fashion platform targets a female audience who are social, stylish and open to new ideas, Moore says, adding that she expects the audience to skew younger due to the influencers being young lifestyle bloggers.
"Quite frankly, we want to turn a few heads, see passionate engagement online and in the Twitterverse," she says.
Moore adds that the partnership fits with the CFL's goal of expanding its digital presence and aligning itself with digital influencers with their own passionate followings. ELuxe works directly with influencers and digital celebrities, turning them into designers by creating clothing capsules around them.
For the #MyGreyCup program, confirmed designers include Toronto-based Kate McKenna, segment host for the CFL on TSN, Ottawa-based Grace Odumo, EIC of 613Style.com, B.C.-interior based Stephanie Koch of Inherited Jeans, Edmonton-based Kira Paran of Northern Style Exposure and Edmonton-based Vickie Laliotis, who runs the blog Adventures in Fashion.
There will be between six and eight designs – including tees, sweatshirts, totes, ponchos and silver jewellery - launching during the first week of November ahead of the Grey Cup final on Nov. 30, with each piece retailing for under $100 and sold exclusively at eLuxe.ca. It will be promoted through the designers' digital channels while eLuxe's publishing arm, The Luxe Life, will support the collection through influencer and designer profiles. The Luxe Media Group has one million unique views per month, globally.
Moore adds that the partnership is part of a broader initiative from the CFL to attract younger audiences to the game. For instance, it has opened new stadiums in Hamilton and Winnipeg that feature fan sections where people can mill around and chat with friends as they enjoy the game, rather than be in an assigned seat, which recognizes that a younger audience wants a more social experience.
"We need to engage our brand in new ways and with new audiences and this is a perfect example," she says.
Photo: Models in preliminary designer t-shirts for the #MyGreyCup collection at a CFL event last week in Toronto.