MasterCard brings 'Priceless' access to ACC
In renewing its partnership with MLSE, the credit card co will be providing cardholders with better access to Leafs and Raptors games while positioning itself as a technology provider.
In a play to bring its customers closer to the action, MasterCard has bought two prime seats at the Air Canada Centre to give cardholders access to one of the hottest tickets in town.
As part of the long-term deal, MasterCard has two new "Priceless" seats that will be at ice level for Toronto Maple Leafs games and court level for Toronto Raptors games, which can only be won by cardholders. The first ticket giveaway was for last night's season opener between the Toronto Maple Leafs and Montreal Canadiens. The winner was chosen as part of MasterCard's #oldestrivalry social media contest, where fans were asked to post photos and stories about the Leafs/Canadiens rivalry, and a select few were gathered and then surprised with a visit from Doug Gilmour and Guy Carbonneau with one pair of fans taking the tickets.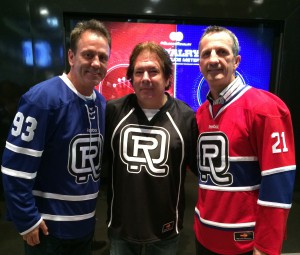 Going forward, MasterCard will be giving away the seats as part of its Priceless Surprises contest, which cardholders enter into when they use their card or interact through social media.
Returning as part of the promotion is MasterCard's Priceless Zone outside the Air Canada Centre, displaying its retail technology by letting cardholders purchase exclusive merchandise, starting with bobbleheads but moving towards things like hats, shirts and jerseys as the season goes on.
Reaching its consumers through tech activations at the ACC has become a bigger focus for the brand than the placement it has around the ice and court. In addition to the demos at the Priceless Zone, all of the 177 vendors in the Air Canada Centre have now been equipped with MasterCard's Tap & Go no-touch payment tech.
"About five years ago, branding was our number one priority and cardholder access was still continuing to evolve," Milos Vranesevic, VP, head of marketing at MasterCard Canada, tells MiC. "Today, those continue to have importance, but we're really focused on how we can involve our tech and showcase it through those fan experiences."
Vranesevic notes that the Priceless Zone's location – between Gate 1 of the arena and the exit from Union Station – puts it in one of the densest areas for foot traffic on game nights, and that the ACC is among the top ten sports venues every year for attendance.
Cardholders also receive a 10% discount on team apparel at the Real Sports Apparel store inside the Air Canada Centre, preferred seating at Real Sports Bar & Grill and e11elven restaurants and access to an exclusive presale for 75 hard-to-obtain Maple Leafs tickets at each home game.
MasterCard is also a sponsor of the Montreal Canadiens, and is currently finalizing plans for similar activations at the Bell Centre. Vranesevic says the company made the decision years ago to pursue its hockey sponsorships through teams, instead of going after the entire league.
"Based on our research, loyalty is strongest with the team, not the league, so it's most important for us to drive our strategy and commitment to engage with fans at that level," he says. He added that the Maple Leafs and Canadiens were the two most iconic teams in Canada and that the company has been pursuing longer-term deals with prominent sports and entertainment companies. Doing so allows the company to both maintain what it sees as leadership in cardholder access and evolve its technology focus, using the high-traffic venues as sites for either pilot project or full-scale launches.
Last week, it was announced that Ford was expanding its partnership with MLSE, including naming rights to Maple Leaf Square and a ticket giveaway of its own.
Featured image courtesy of MLSE, inset image courtesy of MasterCard