Sportsnet hits audience record with Leafs home opener
The Toronto Maple Leafs' first home game against the Montreal Canadiens pulled in an average audience of 2.01 million.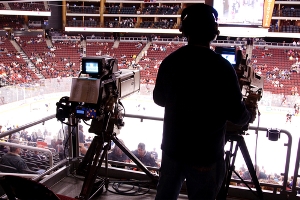 Sportsnet pulled in an average audience of 2.01 million (2+) on Wednesday night for its broadcast of the Toronto Maple Leafs home opener against the Montreal Canadiens, making the game the most-watched broadcast in the network's history.
The broadcast was the number one program of the night in Canada, according to Numeris overnight data provided by Sportsnet. The Montreal at Toronto game beat Sportnet's previous audience record by 40%, which was for the 2013 Toronto Blue Jays home opener against the Cleveland Indians. That broadcast brought in an average audience of 1.44 million.
Overall, eight million viewers tuned in to at least some part of Sportnet's hockey broadcasts on Wednesday night, which included the 6 p.m. Scotiabank Wednesday Night Hockey Pre-Game Show, and the match-ups between Vancouver and Calgary, as well as San Jose and Los Angeles, in addition to the Leafs' home opener. On its own, the Scotiabank Wednesday Night Hockey Pre-Game Show brought in an average audience of 377,000 viewers.
On the digital side, 55,000 people live-streamed some part of Wednesday night's hockey broadcasts using Rogers NHL GameCentre Live platform, Rogers said in a release. Of those, 75% watched the games online at home, while 25% streamed the content on mobile devices. On average, users streamed 51 minutes of game time. Viewers also streamed 80,000 minutes of  on-demand video and replays using the MyReplay feature on GamePlus. The GamePlus feature is only available to Rogers customers, and provides unique game footage from multiple camera angles.
Sportnet.ca also saw a spike in traffic on Wednesday, with the website receiving 1.8 million page views and 561,000 visits, according to Radian 6/Adobe Site Catalyst data provided by Sportsnet. The site also brought in 432,000 unique visitors. On Twitter, more than 6,000 NHL-related mentions were made using the @Sportsnet handle.
TVA Sports also released ratings information for its French-language broadcast of Wednesday night's game between the Leafs and the Habs. The broadcast pulled in an average of 925,000 viewers, and peaked at 1.2 million. TVA Sports holds the French language national rights for 275 NHL games. RDS is also still broadcasting hockey in French, but holds the rights to only 60 regional games.
From Playback Daily
Image courtesy of Shutterstock