4K screens hit Toronto streets
Astral will start rolling out its network of 40 digital faces on Nov. 10.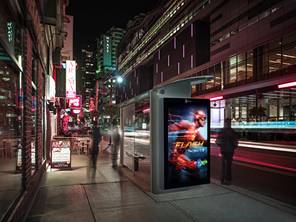 Astral Out-of-Home is introducing 4K HD-quality screens to advertisers in Toronto ahead of the key holiday period.
The company, a division of Bell Media, yesterday announced that by December it will have deployed 40 digital transit shelters in the city's downtown. The TSAs, designed by Kramer Design Associates, will be equipped with 84-inch LCD screens that provide a higher resolution and a crisper image than existing screens, Eric Menzies, director of sales, street furniture advertising at Astral Out-of-Home, tells MiC.
The caveat, Menzies notes, is that the creative for the boards will need to be in a 4K format to appear in the high resolution.
Astral is replacing existing shelters at 40 locations in the city and installing the new ones with a digital board on one face and static board on the other.  The first boards will roll out Nov. 10 with the full network up by the first week of December.
Menzies says up to six advertisers can buy space on the new digital network until the last week of December, with three having come on board as of Friday, though he declined to name them. Each of the six advertisers will own eight seconds in a 48-second loop, which totals 68,000 spots per day across the network. Menzies says the boards can be programmed to swap in new creative at different times of the day.
Locations are being finalized but the majority would be south of Davenport Road, specifically on King, Queen, College and Yonge Streets, along with Avenue Road.
It marks the first time digital boards have been introduced to Toronto streets, though currently there are more than 300 digital boards in Quebec, Ontario Alberta and B.C. In total, Astral has more than 10,400 board faces in Canada.
There are plans to install more of the 4K digital shelters in Toronto, though a timeline has not been finalized for that, Menzies says.
According to a report earlier this year by US research firm PQ Media and Warc, spending on digital OOH is expected to drive growth in the sector.