Budweiser's Red Light TV power play
A branded hockey channel, fantasy hockey app and pitchers that light up are among the ways the beer brand is trying to own goal-scoring moments.
Budweiser has sold more than 45,000 of its Red Lights across Canada since its launch in 2013, getting the portable WiFi goal light in the living room of many Canadians.
Now, the brand is amplifying its brand presence during goal-scoring moments.
Leveraging the changing of the guard for hockey broadcasts in the country, the Labatt Breweries of Canada brand, media agency UM and Rogers Media this month launched the Bud Red Light Channel in Ontario. Airing on Rogers cable channels 500 and 999, the branded channel airs game scores, stats and highlights when hockey games are being played.
The channel is currently not being advertised though eventually Rogers is expected to promote it regionally during both hockey and non-hockey programming.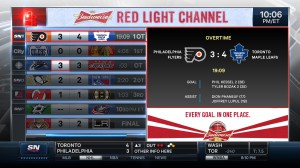 Aside from the Red Light channel integration, the beer co has brought in two new in-game aspects to Rogers Hockey Night in Canada broadcasts as part of its plan to own goal-scoring moments with its drinking-age target.
That includes a Red Light scoreboard during stops in play and a "score bug" that brands each goal replay during a game as a Budweiser Red Light goal.
Amy Rawlinson, senior brand manager, Budweiser, Labatt Breweries of Canada, says the integrations are part of the beer brand's strategy to "own that platform in announcing when goals are scored."
The brand has also worked with its creative agency Mosaic to extend its media presence in bars across the country. At 750 licensed bars, Budweiser beer is being served in Red Light beer pitchers that light up when a goal is scored. Participating bars are spread across seven provinces – British Columbia, Alberta, Manitoba, Ontario, New Brunswick, Nova Scotia and Prince Edward Island. In Toronto that includes bars like Wegz Stadium Bar, The Ballroom and Hoops.
Budweiser has also launched Budweiser Red Light Fantasy Hockey in partnership with the NHLPA, a recurring, one-day fantasy league that takes place on location at 100 bars, including The Ballroom in Toronto.
Participants access the web-based app to select three lines of players participating in that night's games. They can earn points based on those players' goals, assists and shots that night, then follow their progress on a digital leaderboard as they compete for bragging rights, along with a $15 gift card for that establishment.