Nadbank: Newspaper readers still prefer print
Mid-year data for seven markets from the audience research organization.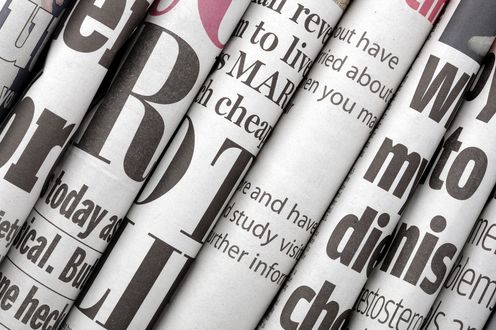 Measurement company Nadbank has released its latest readership data, showing that nearly three quarters of all Canadians read newspaper content at least once a week, with print readership continuing to outpace digital.
According to the mid-year data, which is gathered using phone interviews and online surveys in major markets including Toronto, Montreal, Vancouver and Calgary, readership in the top six markets remains relatively stable, with weekly print audiences there for the 2013/2014 period at 8.5 million per week compared with 8.8 million during 2013.
Montreal and Winnipeg have the highest weekly readership at 77% of adults and 83% respectively, followed by Ottawa-Gatineau at 76%. 
Weekly reach for printed editions is approximately double that of digital, with 55% of readers looking at only printed content while just 11% read only digital content.
The mid-year study measures 30 Canadian newspapers in seven markets and covers the readership habits of 75% of Canadians, according to a release on the report.
Here are the top titles listed by total weekly readership:
Toronto
Toronto Star: 2.2 million (6/7 day print: 1.8 million, weekly digital: 956,800)
Metro: 1.2 million (5 day print: 1.2 million, weekly digital: 164,000)
The Toronto Sun: 1.2 million (6/7  day print: 979,400, weekly digital: 386,600
Globe and Mail: 1.3 million (6/7 day print: 967,300, weekly digital: 732,500)
National Post: 747,900 (6/7 day print: 478,700, weekly digital: 747,900)
Montreal
Le Journal de Montreal: 1.2 million (6/7 day print: 1.1 million, weekly digital: 292,800)
Metro: 917,700  (5 day print: 904,100, weekly digital: 76,500)
La Presse: 1.2 million (6/7 day print: 874,100, weekly digital: 720,900
24 Heures: 743,200 (5 day print: 729,800, weekly digital: 61,500)
The Gazette: 510,000 (6/7 day print: 397,400, weekly digital: 241,500)
Vancouver:

The Province: 830,800 (6/7 day print: 704,200, weekly digital: 325,700)
Vancouver Sun: 844,900 (6/7 day print: 665,400, weekly digital: 368,100)
24 Hours: 625,100 (5 day print: 588,000, weekly digital: 66,700)
Metro: 612,000 (5 day print: 588,000, weekly digital: 66,700)
Globe and Mail: 402,900 (6/7 day print: 259,700, weekly digital: 236,900)

Ottawa-Gatineau:

Ottawa Citizen: 447,400 (6/7 day print: 328,100, weekly digital: 223,100)
Ottawa Sun: 292,000 (6/7 day print: 234,400, weekly digital: 104,000)
Metro: 243,700 (5 day print: 233,000, weekly digital: 23,500)
Globe and Mail: 223,700 (6/7 day print: 141,500, weekly digital: 134,400)
Le Droit: 179,800 (6/7 day print: 151,000, weekly digital: 60,400)

Calgary:
Calgary Herald: 549,900 (6/7 day print: 431,500, weekly digital: 262,400)
Calgary Sun: 388,700 (6/7 day print: 121,800, weekly digital: 138,800) 
Metro: 327,800 (5 day print: 317,800, weekly digital: 57,300)
Globe and Mail: 209,800 (6/7 day print: 165,100, weekly digital: 107,200)
National Post: 113,900 (6/7 day print: 78,900, weekly digital: 53,800)
Edmonton:
Edmonton Journal: 499,400 (6/7 day print: 413,300, weekly digital: 198,300)
Edmonton Sun: 365,500 (6/7 day print: 323,400, weekly digital: 91,000)
Metro: 278,700 (5 day print: 265,100, weekly digital: 34,600)
Globe and Mail: 159,400 (6/7 day print: 114,800, weekly digital: 74,900)
Winnipeg:
Winnipeg Free Press: 401,600 (6/7 day print: 349,300, weekly digital: 164,000)
Winnipeg Sun: 237,400 (6/7day print: 200,700 weekly digital: 65,200)
Metro: 216,700 (5 day print: 208,200, weekly digital: 16,900)
Globe and Mail: 87,400 (6/7 day print: 58,100, weekly digital: 41,700)