O.B. looks to combat the 'ick-factor'
Getting the brand into the hands of university-aged women with the help of elements like a Twitter Vending Machine is the aim of the new campaign.
Energizer wants university-aged women to give its o.b.-brand tampon brand a try, putting the product into the hands of would-be buyers with a new campaign.
The campaign, with media from MEC, creative from JWT, digital work from Real Interactive, OOH from Boom! Marketing, direct mail from 6Degrees and social media work from Paradigm Public relations is the first campaign from o.b. since it was purchased from J&J last year.
Christine Jew, brand manager, Energizer Personal Care, says the campaign, which is running under the tagline "Give us one period" is aiming to reach university-aged women with a mix of digital, OOH and direct mail.
A Twitter Vending Machine filled with o.b. tampons will be at four universities across Canada, with passersby able to get a free box of the product by tweeting a localized hashtag at the machine. The machine will be the University of British Columbia, Toronto's Ryerson University, London's University of Western Ontario and the University of Calgary.
The brand will also be sampling the product to consumers through the Shoppers Drug Mart Optimum database using direct mail.
And online, banner ads targeting women aged 18 to 24 will run via Mode Media, Olive Media, AOL, Rogers Media and Google. All pieces of the campaign direct consumers to Giveusoneperiod.ca, a microsite that aims to inform potential consumers about the product.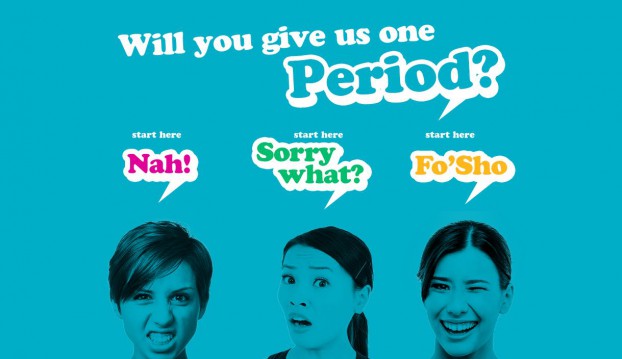 Jew says trial is the main marketing hurdle for o.b., because there are many factors that stand in the way of potential consumers buying the brand. Describing it as the "ick factor," Jew says common consumer concerns include the tampon not having an applicator and its size, which is smaller than other brands. To address these concerns, the campaign poses questions such as "isn't it messy?" and "is it hard to insert o.b. tampons?"
Since the brand hasn't been in market with an advertising buy for over a year , Jew says part of the campaign's success will be measured simply by its success in re-connecting with consumers. Increasing brand share and equity are also goals of the new campaign.
O.b. is the latest feminine hygiene brand to promote its product with a new strategy this fall, earlier this month U by Kotex unveiled a new vampire-based web series, Carmilla, that it has financed to connect its brand with millennial women.