Dairy Farmers pairs with W for the holidays
The org is promoting Canadian cheeses in a movie partnership hosted by radio and TV personality Josie Dye.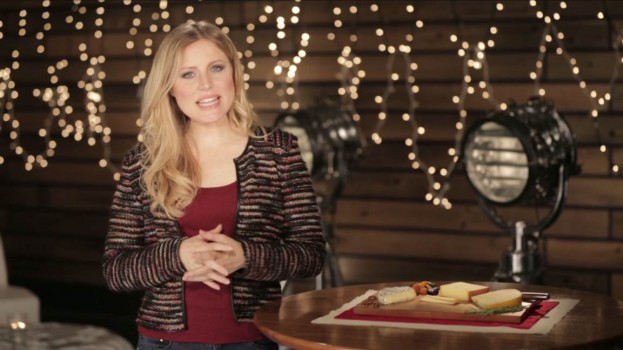 The Dairy Farmers of Canada is leveraging the W Network's holiday movie segments to get viewers thinking about recipes using Canadian cheese.
Starting Dec. 4, the organization is sponsoring eight segments on the channel, hosted by radio and TV personality Josie Dye (from Oh So Cosmo and 102.1 the Edge, pictured) that will have cheese front and centre before, during and after movies like Surviving Christmas, The Family Man and Four Christmases.
Ishma Alexander-Huet, manager, communications strategies at M2 Universal, which worked with Corus Entertainment-owned W Network and Dairy Farmers on the partnership, says that the brand wanted to introduce consumers to cheeses – such as brie, aged cheddar, flavoured havarti and Gouda – that the target audience of women ages 25 to 54 may have tasted or wanted to try but hasn't had much experience serving or cooking with.
For that reason, the hosted segments with Dye should be effective at introducing new recipes, Alexander-Huet says, since the audience has a relationship with [Dye] and look to her for advice.
Dye will introduce the movies and ask people to tune in at the end to hear about holiday recipes using cheese. She'll return for a 60-second interstitial at the end of movie, with Dairy Farmers-focused content linking to the movie title or theme, with her suggesting recipes such as Parmesan and Caramel Popcorn.
In addition to the hosted segments, the partnership includes on-air billboards and sponsorship of closed captioning. Meanwhile WNetwork.com's food section and its "Dinner and a movie" e-newsletter will include a featured cheese recipe. The campaign is supported through social media and organic links on its site. The program will drive awareness for Dairy Farmers' "All You Need is Cheese" campaign and push to the website Allyouneedischeese.ca, where viewers can get more content.
Dairy Farmers' "All You Need is Cheese" partnership starts Thursday Dec. 4 with the movie Surviving Christmas and will encompass movies that air on Thursday, Friday and Saturday evenings leading into December.