CBC/Radio-Canada: dumbing down or shaping up for the digital age?
The pubcaster's chaotic town hall on Wednesday debated the pluses and minuses of Vice Media and its mobile-first strategy as the embattled network makes a digital turn.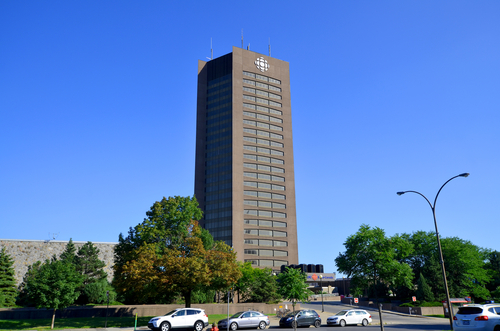 Rogers Media partnering with Vice Media to build a Toronto digital production studio provided a lightning rod Wednesday for CBC employees debating how the pubcaster can make a digital turn without dumbing down.
With CBC president Hubert Lacroix and CBC board members and other top execs gathered in Montreal for their annual public meeting, CBC employees vented about a mobile-first strategy that aims to transform the pubcaster.
Early in the town hall, Lacroix pointed to Vice Media, which originated 20 years ago in Montreal as a punk magazine, as one of CBC/Radio-Canada's looming digital competitors as the radio and TV network embraces a digital future.
During a panel discussion by top CBC journalists and personalities, Patrice Roy, host of Le Téléjournal Grand-Montréal 18 h, Radio-Canada's supper-hour newscast, argued Vice Media represented a bridge too far as a model for a transforming pubcaster.
Roy said the youth-skewing global media group operated at the intersection of news and entertainment, while providing no context for audiences.
"Anything goes. Anything is acceptable. That's not what we want to do at Radio-Canada with our newscasts. That's not the model we're moving towards. We need journalists to verify first," he told the town hall.
But fellow panelist Diana Swain, a CBC News Network host, said Vice Media, known for its renegade reporting as it expands into digital media, film and TV, impressed her with The Islamic State, a recent Vice News report from war-torn Syria.
"Last week I watched a half hour documentary produced by Vice that had incredible access and showed me parts of ISIS I had not seen. The work was good. It was very good," Swain told the town hall.
The veteran CBC journalist said she won't cover "Kim Kardashian's butt," but also had to respond to what media Canadians were consuming to stay relevant and valued as a public broadcaster.
"It doesn't mean we dumb down. I don't think people are dumber than they've ever been. Expectations are higher than they've ever been," she said.
The 90-minute town hall, which was webcast for Canadians, included many calls for top CBC/Radio-Canada execs, led by Lacroix, to demand the federal government increase its investment in the pubcaster as it embraces the digital age.
Charles Tisseyre, a science journalist and host of the Radio-Canada series Découverte (Discovery), told the gathering CBC/Radio-Canada needed "re-investment" from Ottawa to complete its digital transformation.
"We're talking about the digital shift. It's important to do that," he urged.
"What did La Presse do when it made ??its transition to digital? It has invested $60 million more. What do we do? We cut," Tisseyre called out at one point, provoking sustained applause from employees and glum faces from top CBC execs seated in the front row.
For his part, Lacroix defended CBC/Radio Canada and its mobile-first digital strategy amid continuing job and programming cuts.
"The decisions we have made have not always been easy. They've not always been obvious, and surely they haven't been popular," Lacroix said.
But he added CBC/Radio-Canada faced a "broken business model" as it moved to balance its books.
"That's why we need to take steps to become financially viable," Lacroix said.
Photo: Maison Radio-Canada by meunierd via Shutterstock.com