Project Latte grabs Seinfeld Canadian SVOD Rights
All 180 episodes of the cult sitcom will be available for binge-viewing after the Bell Media streamer launches by the end of the year.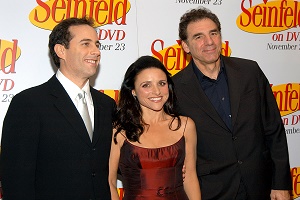 Bell Media's upcoming SVOD has already done content deals for comedies like  Monty Python's Flying Circus and HBO's Curb Your Enthusiasm.
Now the streamer, code-named Project Latte and set to launch by the end of the year, has looked to differentiate itself even more from Netflix Canada and local rival shomi by picking up the exclusive streaming rights to Seinfeld from Sony Pictures Television.
All 180 episodes of the cult TV franchise will become available for binge-viewing by Project Latte subscribers.
NBC's Seinfeld aired on Global Television over nine seasons through 1998, and then repeated in syndication.
Now the Project Latte deal is the first time Sony has sold the SVOD rights to the series.
Other comedies set to stream on the TV-only SVOD from Bell Media include the catch-up seasons for The Big Bang Theory as part of a deal with Warner Bros. International Television, the eventual 100 episodes of Anger Management from Lionsgate, and a raft of Comedy Central shows from Viacom, including Key & Peele, Broad City, Ugly Americans and Drunk History.
Project Latte has also snagged the streaming rights to all 275 episodes of Cheers, another 264 episodes of Frasier, and all episodes of the Canadian comedy Corner Gas and the U.S. hit Everybody Loves Raymond.
The SVOD will also stream past seasons of more recent comedies like The Millers, Spun Out, Weeds, Community, 30 Rock  and The Goldbergs.
Project Latte will feature in all around 350 TV titles, comprising about 10,000 hours of non-kids series.
There's still no word on pricing for the Bell Media streamer to launch on Telus' Optik TV, Bell Fibe TV, Bell Aliant FibreOP TV and Bell Satellite.
Shomi, from Rogers Media and Shaw Media, launched earlier this month to fend off competition from Netflix Canada, which dominates the Canadian SVOD space.
From Playback Daily
Photo: Everett Collection / Shutterstock.com