TSN reveals sponsor lineup for Grey Cup
Six major advertisers are on board for the TV broadcast, while Formula Four sponsors the network's first national radio broadcast of the game.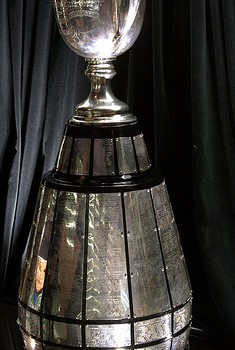 Nissan, GMC, Wendy's, Napa, SiriusXM Canada and Marks are among major brand sponsors for this Sunday's CFL championship game on TSN, the broadcaster announced on Tuesday.
Wrapping up its year-long program, Nissan is there with "Back in the Game," sponsoring the first quarter of the Grey Cup taking place Sunday at 6 p.m. in Vancouver – meaning it will be the only automaker airing ads during that period.
Nissan, which documented the season of Eastglen High School's football team in Edmonton, will also air a 30-minute documentary about the team on Saturday during TSN's six hours of Grey Cup coverage.
It is also sponsoring the TSN Fan Zone at Vancouver Convention Centre.
As it has done all season, GMC is sponsoring the game's 4th quarter.
Wendy's is presenting the big game's halftime show, which is being headlined by rock band Imagine Dragons.
Napa is sponsoring the "starters to watch" segment while SiriusXM Canada is the sponsor of the Grey Cup Kickoff Show and Marks is sponsoring the Grey Cup Sunday Countdown Clock and the Countdown to Kickoff pre-game show.
In all, there are approximately 70 30-second spots during Sunday's broadcast. Last year's Grey Cup attracted an average audience of 4.5 million viewers on TSN.
New to this year's coverage is TSN's Grey Cup Radio Network, a combination of six TSN radio stations and 13 regional sports, news talk and music stations that are broadcasting the game live. Vancouver-based beverage company Formula Four has come on board as national title sponsor for that broadcast.