Microsoft, BMW pilot a cross-device campaign
The automaker leveraged users' Microsoft Account IDs to serve relevant creative across the publisher's properties.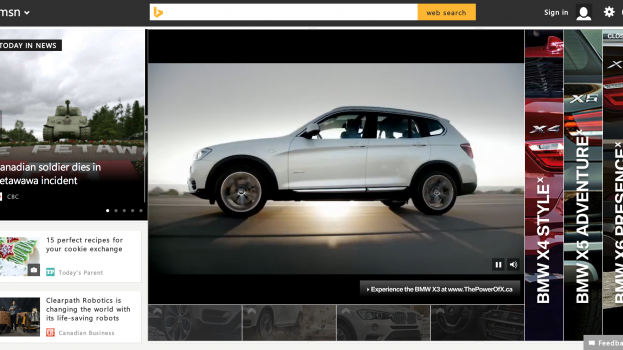 Targeting consumers across devices accurately and consistently has been a sticking point for advertisers. Microsoft Advertising is trying to address that issue through a pilot program with BMW that lets the brand target users across its entire ecosystem.
BMW Canada, working with media AOR Media Experts and creative agency Cundari, partnered with Microsoft on a cross-device campaign for the automaker's X series crossover vehicles.
Audience targeting has traditionally been done through cookie matching and a user's digital footprint. But what was unique about this execution is the advertiser could follow its target of males 35 to 60 with household income of $150,000 or more across Microsoft's platforms, based on their unique Microsoft account login.
The campaign launched on Sunday with a takeover of the MSN Homepage and is being followed up with a series of media placements, says Karel Wegert, VP digital solutions at Media Experts.
People who interacted with the banner on that day were tagged and then served more ads about the vehicle they expressed interest in – whether the X3, X4, X5 or X6 – across other Microsoft platforms. That came in the form of custom galleries and product info on its app ecosytem Windows 8, ad units within the Xbox entertainment centre's tiles platform or an ad unit for its email program Outlook. Users are also being targeted based on lifestyle characteristics that align with a specific model of the X series.
"We really like the idea that once somebody has raised their hand and shown interest in this vehicle, we can pop up all over the Microsoft ecosystem and keep showing them different examples of what these cars can do," Wegert says. "The whole challenge of cross-device is really best answered by some sort of logged-in state."
"For us, this is the profound opportunity of starting to target audiences and deliver engagement rather than straight commodity based clicks and impressions," adds Brandon Grosvenor, VP sales, Microsoft Advertising & Online Canada. "The brand can learn so much more about their target audiences than just click-to-action."
In addition to being able to accurately track consumers, BMW wanted to show off the differences between each model. It developed an overarching campaign called "Life X" to describe how each model fits a unique lifestyle. For instance, the phrases Style X and Details X were applied to the X4, Statement X and Presence X for the X6, Play X for the X3 and Adventure X for the X5.
To show this, Cundari developed a custom creative ad unit, called a collage, that allows users to choose which of the four vehicles they'd like to learn about. While that one ad expands, the bookshelf-like ad unit displays tabs for the other models. The media then links to a microsite, thepowerofx.ca, with more content about each vehicle.
"Within the creative unit itself, the user self selects the vehicle they want to engage with or learn more about. However we didn't want to close them off from discovering the other models in the lineup," says Kerry Fleiser, brand communications manager at BMW Group Canada. "This is why we designed the unit as a bookshelf of sorts, where each model can be seen and accessed."
Wegert says there is a second-phase to BMW's X series campaign planned for 2015 but could not share many details on it just yet. Meanwhile Microsoft's Grosvenor says it will use what it learned from the campaign to improve on its cross-platform offering.