Rogers mags take stand on sexual assault
Seven of the media co's outlets have launched Project 97 - a year-long initiative to advance the discussion around sexual assault.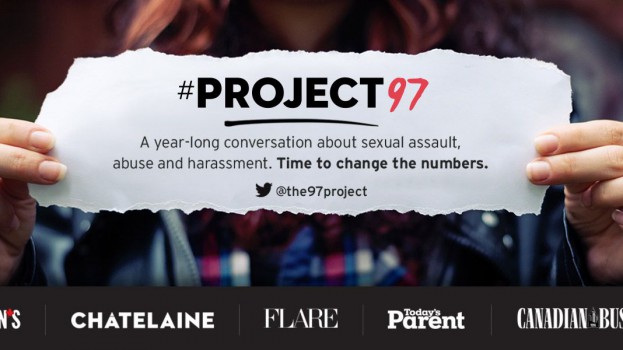 Just over a month ago, as news sites and social media teemed with stories and discussion around sexual assault – spurred by allegations against former CBC Radio host Jian Ghomeshi – Derek DeCloet, VP of content, publishing at Rogers, says what stood out was how few cases end up in the justice system.
That was the spark for Project 97, a year-long commitment from seven Rogers outlets to "change the numbers" around sexual assault, abuse and harassment through a series of articles on the topic.
According to the site, 97 is the percentage of sexual assaults in Canada that do not get recorded as crimes by police – whether because it goes unreported or complaints are withdrawn. DeCloet says it is the hope of the media outlets involved to lower that number.
"We think this is a really important issue, an issue that affects so many people in this country," DeCloet says. "We hope that through the reporting we do we can come to some ideas to make the situation better and make victims of sexual assault feel like they can come forward and get the justice they deserve."
Carol Toller, managing editor at Canadian Business, is overseeing the year-long project, DeCloet says, which will see content produced by Maclean's, Chatelaine, Flare, L'Actualite, Today's Parent and Canadian Business, in partnership with coverage from CityNews on Rogers-owned City. Maclean's and Chatelaine will devote the "most energy" to the project, while DeCloet says the other pubs will contribute with content geared to their audience – Today's Parent is focusing on parenting children about the issues of sexual consent, for instance.
Some of the headlines from stories published so far have included "Fighting abuse in the workplace first means learning to see it" in Canadian Business and "The long, agonizing road to justice" in Chatelaine, along with several first-person accounts, including an article in Maclean's by Ontario politician Cheri DiNovo. 

"We chose to launch the way we did because as we started talking about the Ghomeshi story and other related stories, like the Bill Cosby situation, we found the most compelling stuff to be the first-person stories," DeCloet says. "We decided to talk to people who might have been victims, deal with victims or are otherwise involved in the process of dealing with sexual assault incidents."
He adds that over the next 12 months, the publications will examine the issue from different angles, for example, delving into the criminal justice system and how it handles these cases.
All of the stories from the Rogers' publications are being hosted in a central hub - Project97 - along with other relevant content from other publications, tweets and a link to information about sexual assault and abuse.
While there is no ad campaign planned, DeCloet says articles relevant to the project include links back to the project site while the Twitter hashtag #Project97 will serve to cross-promote stories living on the various brands. Rogers' radio and TV stations are working together with the publishing division to help drive awareness.
Rogers has not sought a brand sponsor as yet as the media co aims to grow awareness organically at first, he added.