Canadian Living's forward-looking 40th
The magazine's year-long anniversary celebration will feature campaigns around 12 guest editors.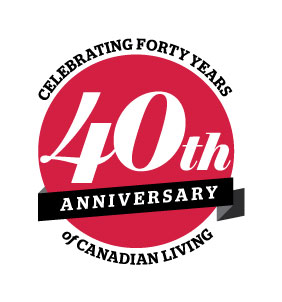 Canadian Living has launched a year-long 40th anniversary celebration to take a glance back at its past as it prepares for the future.
Print is undergoing transformation, and that's evident at Canadian Living, where recently-hired editor Sandra Martin has been given the title of multi-platform editorial director. The magazine is also set to switch owners as last month Transcontinental announced it was selling its consumer mags, including Canadian Living, Elle Canada and The Hockey News to TVA Group for $55.5 million.
In addition, Martin notes that the demographics of Canadian readers have changed significantly since Canadian Living launched as a quarterly publication in 1975, so the 40th celebration is about showing how the mag remains relevant to readers today.
"We didn't want this to be a retrospective only, Martin says. "We just wanted to say, 'Can you believe we've been around 40 years?' Here's some things we can look back at together with nostalgia. But most importantly we want to talk about how we're relevant now and how we'll be relevant going forward."
Content for the anniversary celebration will be hosted at Canadianliving.com/cl40 - including articles like a collection of all-time favourite recipes from past issues and iconic beauty products that are still relevant now. Each of the 12 issues will have a guest editor – hockey Olympian Hayley Wickenheiser guest edited the Jaunuary 2015 issue, which lands on newsstands on Monday. In addition there will be an anniversary cookbook, VIP events and reader contests as part of the promotion, while the first-ever issue from 1975 is available for download on the Canadian Living iPad app.
The magazine is also running a "nominate your community" contest, encouraging readers to share what makes their area special, with the stories being aggregated on the site.
The publication's anniversary will be cross-promoted through the social, print and online channels for TC's owned media brands like Style at Home, Canadian Gardening and The Hockey News. Canadian Living will also have special campaigns with its guest editors, like Twitter chats, behind-the-scenes video, as well as having guest editors make national TV appearances sponsored by the brand. There will also be newsstand promotions throughout the year.
Jacqueline Loch, group publisher and VP, Canadian Living, wouldn't share details on advertisers on board for the special anniversary editions but says there are opportunities ranging from multi-platform programs to smaller sponsorships.
Canadian Living has print readership of just under 3.5 million and nearly one million monthly unique visitors to its website.
Its digital products had monthly average readership of 10,016, according to AAM data, during the period of January to June 2014.