Spotted! W Network's flashy 'Dress' promo
The channel used a flash mob over the weekend in Toronto to promote the upcoming launch of Say Yes to the Dress Canada.
Corus's W Network brought back a marketing favourite, the flash mob, over the weekend to promote the upcoming launch of Say Yes to the Dress Canada.
The channel had 30 brave and likely freezing brides take to the ice during the DJ Skate Night on Saturday at Toronto's Natrel Rink at the Harbourfront Centre. Participating volunteer skaters either work or know someone at Corus Entertainment, or were responding to a call from Zone Marketing Group. A representative from Corus Entertainment says about half of the skaters were married and wanted the chance to wear their dresses again.
The stunt started with one of the brides riding around the rink on the Zamboni, and was followed by a group of gown-wearing skaters who glided around with maple leaf bouquets.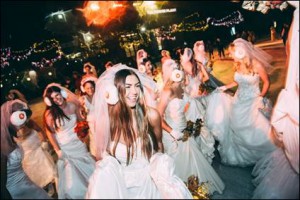 The stunt was held in advance of this Wednesday's 10 p.m. launch of the show on the W Network. A marketing campaign for the show kicked off last month, with Cineplex pre-show placement over the holiday season, OOH advertising in Toronto and Vancouver, Facebook ads and digital ads on Brightroll and Google's programmatic networks as well as TV and radio spots across Corus media properties.