Spotted! 'Architectural advertising' meets automotive
On-site executions at the Montreal International Auto Show from Acura, Honda, Kia, Lexus, Mazda and Subaru.
OOH played a bigger role than usual at the Montreal International Auto Show this week, as brands used a new arsenal of tools to attract the attention of the show's 200,000 visitors.
Alongside the latest models stood record-size freestanding OOH boards and glitzy backlit superboards, while advertisers used the venue's structural elements as a canvas for creative executions.
The boards aimed to grab attention and provide information in an effort to increase visitor engagement, says Justin Kausel, VP for Montreal-based Time2ad, which has the Montreal, Toronto and Vancouver auto show as event clients.
"If [brands] want people to buy stuff they need to show off and have the highest visibility and if they want people to stick around their exhibits as long as possible to gather information, they need to stimulate them," Kausel says.
This year, brands are breaking through with what Kausel calls "architectural advertising," essentially using architectural elements of a building and integrating brands through wraps, freestanding displays, ad rails, or dominations, supported with lighting equipment to make the display stand out.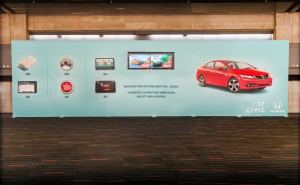 Working with its internal media team and creative agency Grip, Honda nabbed a prominent position on a freestanding board 67 feet long by 18 feet high.
The board was built around a video monitor that the venue, Palais des Congres de Montreal, wanted in that spot to draw attention to the nearby emergency exit. By building the board around it and using the screens to air commercials for the brand, Kausel says it is now the largest freestanding mixed media board ever made in Canada.
Acura, meanwhile, also working with Grip, has taken over an escalator with a multi-level vinyl wrap that gives people riding the escalator a two-level view for the brand, with copy in view on the 5th floor while a photo of the Acura TLX comes into view on the 4th floor, which Kausel says is another first.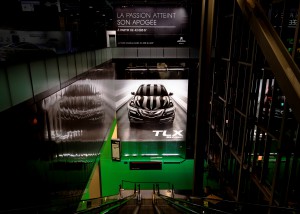 Kia, working with Innocean for both media and creative; Subaru, with media and creative from Agence Rinaldi; Lexus, working with DentsuBos Montreal and Mazda, with media from Mindshare Montreal and creative from JWT Montreal, have also done large displays, which can be viewed below.
Photos courtesy of Fotodoro.ca.