CES synthesized
Missed the tech show? Fear not. Highlights from a panel of Canadian media agency execs sharing insights from this year's event.
Marketers wanting to grab the attention of today's consumer are going to need to start thinking more like product managers, a media agency exec said Friday.
Consumers have become more comfortable sharing their data but are expecting more relevant content in return, said Will Pate, VP of digital strategy at M2 Universal. Meanwhile, the lines between apps and ads have blurred to the point where most consumers no longer care about the distinction, so long as it can solve a problem for them. The challenge for marketers is to figure out how to offer that utility, Pate said, which is something that most marketers have not spent their careers having to solve.
"The challenge in the marketing space, regardless of what side of the table you are looking at, is we just don't have backgrounds in things like data science, machine learning and artificial intelligence," Pate said. "So we need to onboard a whole group of people who are specialists in those things and… use that to build experiences that are actually a value add for a person as they go about their day."
Pate's comments came during a panel discussing mobile insights from CES at the TIFF Bell Lightbox in Toronto, a week removed from the shiny new wearables and selfie-sticks of CES in Las Vegas. The event hosted by Tapped Mobile and App-Promo, featured media execs and marketers sharing lessons from the show.
Matt Di Paola, managing director of digital innovation at Sid Lee, agreed with Pate that marketers will need to make better use of the big data available to them to help solve consumer problems.
"The world doesn't need more advertising," Di Paola said.
So how to sort through all that data? Di Paola said that agencies and brands need to stop looking at data in silos. Consumers operate across multiple channels, he said, so marketers need to take a holistic approach to examining data to better understand consumers.<
Some of the other predictions and takeaways from the session include:
A move toward standardization for the internet of things: Jake Norman, CEO, Mindshare Canada, said he foresees companies agreeing to work on a standardized platform rather than individual ones, a process that is being driven by consumers who are demanding seamless experiences.
"The last thing [a consumer] wants to do is learn how something else works," he said.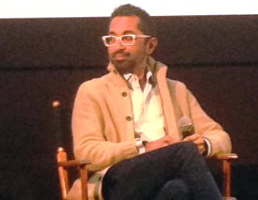 Design is now the price of admission in the tech space: Jonathan Dunn, associate director sales marketing, Bell Digital Media, said he had noted a lot focus on great design and improving the user experience this year at CES. To that, Rahul Raj, VP marketing at smart thermostat maker Ecobee (pictured), agreed that his company had moved to improve the presentation of its product
Your competitors are many and changing: Raj says that no one company is dominating the internet of things space as yet, which has lead to brands "clawing for territory."
As an example, he said that for technology in the home, heating and cooling companies like Ecobee are competing with traditional security companies along with entertainment companies, to own the home, and all of them want to take over more space.
"All these historical competitors in security, like ADT, are using that as a beachhead and offering in smart thermostats and entertainment options," he said. "The competitive landscape is, basically a free-for-all and we don't know where things are going net out."
Main image by Todd Longwell