Sportsnet shuffles radio and TV lineup, puts Blundell on the air
The former 102.1 the Edge host will co-host a morning sports radio program as part of a move that has the Tim & Sid (pictured) show moving to TV.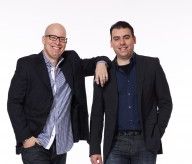 Anyone tuning in to Sportsnet 590 The Fan's new morning show and expecting the "shock jock" experience listeners associate with Dean Blundell will be disappointed, the network's president says.
Debuting March 2, Blundell will co-host Dean Blundell & Co., working with Andrew Walker, one of the hosts of the current national morning show. It will air and run between 5:30 a.m. and 9 a.m. EST, Monday to Friday. That's part of a shuffle at Sportsnet that will also see afternoon radio program Tim and Sid move to TV in the evenings and Greg Brady, current co-host of The Fan's morning show, Brady & Walker, moving into the 1 to 4 p.m. slot.
Just over a year ago Corus Entertainment announced the cancellation of The Dean Blundell Show on 102.1 the Edge. The show had been suspended in December 2013 after Blundell and producer/co-host Derek Welsman made jokes about a criminal sexual assault trial, on which Welsman had served as a jury foreman.
Sportsnet president Scott Moore defended the hire by saying Blundell's more outrageous persona will be toned down for the Sportsnet audience and emphasized the audience Blundell will bring.
"He has an inherent audience and following but he is going to be part of the Sportsnet brand," Moore emphasized."He's a very smart broadcaster who was playing a certain role on a type of radio station where he was asked to be a little edgy. He will be different in this role."
Moore adds that Rogers will take the "non-traditional" step of developing and rehearsing Blundell's show for some weeks prior to launch, allowing time to talk with sponsors about the tone and format of the program.
Sportsnet 590′s current morning show had a 5% share of hours tuned among men 25 to 54 from Sept. 1 to Nov. 30 (the pre-Christmas 13-week PPM period for hours tuned in the GTA), according to data provided by Bray & Partners. That was down from 6.7 during the previous 14-week period, according to the data.
Moore says the current show was doing well in its key demo but the broadcaster saw change on the horizon:  "The thing about 25 to 54s is they become 27 to 57s very quickly, so you want to keep regenerating your audience at the younger end and I think that's something Dean will do."
Moore says that driving factor behind the broadcaster's shuffle is a weakening in the evening TV ratings on Sportsnet, which has traditionally featured sports highlight packages.
Tim and Sid, a Sportsnet 590 show simulcast on Sportsnet 360 during the 1 to 4 p.m. timeslot, are moving to television in the evenings from 5 to 7 p.m.
"It was a chance for us to reinvigorate that time slot," Moore says, noting that early evening sportscasts on all sports networks in North America have suffered some "ratings challenges because of the way people consume sports."
Looking south of the border, he says broadcasters have had some success with opinion shows and look-ahead formats.
Rogers' own Prime Time Sports with Bob McCown airs on Sportsnet 590 and Sportsnet 360 on TV during the same time period, but Moore says the shows are complementary, with McCown's audience skewing older.
Moore says Tim Micallef and Sid Seixeiro's program, which will debut July 1, is still in development but explains it will have a multiplatform focus and he expects "more people are going to watch on their tablet than other shows."