Jays VP talks top sponsorship spots
Mark Ditmars on digital signage switches and an on-field display that's being upgraded for the first time since 1989.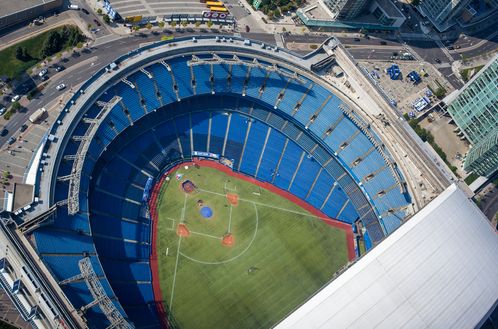 It might be tough to think about the boys of summer this snowy Monday morning, but the Toronto Blue Jays home opener on April 6 is only 62 days away.
Last year the Blue Jays started off hot, with its winning streak leading the sales team to start soliciting playoff and post-season packages for the first time in years after the All-Star Game, says Mark Ditmars, VP, corporate partnerships, Toronto Blue Jays.
While Canada's only Major League Baseball team didn't end up making it to the post-season, Ditmars says excitement for the club has been growing in recent years, leading to brand deals – like recently-acquired player Russell Martin signing to appear on the cover of the upcoming MLB 15 Playstation game in Canada.
At the Rogers Centre, Ditmars says there are a few new opportunities available to sponsors this season, the first being the addition of more digital signage in the concourse, with the number of faces topping 700 by the start of the season.
Two bigger boards will also be switched to HD video, with tri-vision slated boards above walls on the right and left field foul lines being switched over for the first time since the stadium opened in 1989.
Ditmars says the team has also been getting a lot of requests for sponsorship of the area behind the home and away dugouts. He adds the naming rights for the 200 level centre field porch area are also up for grabs, adding an official name to the standing-only area, which currently also has visible signage from Budweiser and Rogers.
Last year the Toronto Blue Jays had a total of 2.3 million visitors to the Rogers Centre, with an average attendance of 29,327, according to numbers from ESPN.