Jaguar ups engagement with interactive ad
The narrative video within an ad unit lets users put the luxury auto brand's cars to the test.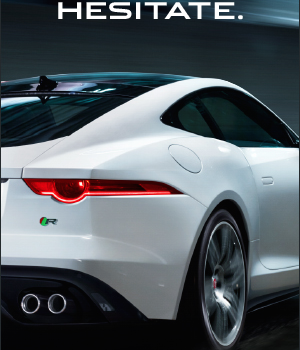 Jaguar Canada's new digital campaign for its lineup of luxury vehicles is using a new ad unit that brings interactive branded video to a publisher's site.
It's a bit like a pre-roll video experience tucked inside of an ad. Once a user has rolled over the ad unit by Crucial Interactive for three seconds, it opens up to an interactive video, with creative by Spark44, that shows how often Jaguar crash tests its cars to improve safety, and takes viewers inside its "climatic development chamber" to show how it tests the cars in different temperatures. The video pauses at key moments and prompts users to drag a slider on the screen to initiate action – crashing a car, for instance. It then offers the option to explore the lineup of Jaguar's XJ, F-Type, XF and XK vehicles or schedule a test drive.
For Jaguar, a luxury car brand that targets mostly males 25 to 64 with incomes higher than $150,000, the ad unit was a way to try and reach a younger, mobile-savvy demo. With marketers putting more emphasis on engagement (clicks within an ad unit) than click-through rate, Ryan Noonan, a manager at media agency Mindshare, which handled strategic planning for the Jaguar campaign, says the ad unit is a standout that has been garnering higher engagement than the industry standard.
"The objective of the program was to really create excitement with some high impact," says Noonan. "With Jaguar's audience being more affluent and mobile savvy, as most people are these days…we thought [this video ad unit] would create a high element of awareness as well."
In addition, the unit was integrated with Twitter with a link that delivers the same ad experience for people who click on it. 
The campaign runs until April 5.