Potential labour dispute brewing at Bell Media
Unifor Local 723M and Bell Media are in the final phase of conciliation regarding their collective agreement.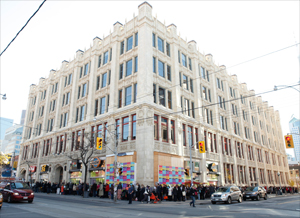 A potential labour dispute is brewing at Bell Media, as the bargaining committee for union Unifor Local 723M and the media co enter the final phase of conciliation for their collective agreement.
According to the union, which represents approximately 720 full and part-time members across Bell Media channels including CP24, MuchMusic, MTV, E!, Bravo, Space and BNN, its members have until Feb. 12 at 6 p.m. to vote on whether to accept a "final offer" from Bell Media on changes to the plans.
At issue is the conversion of workers from a legacy CTV Benefits and CHUM Defined Benefit Pension Plan to Bell's OMNIFLEX benefits and Bell's Defined Contribution pension plan. Negotiations started in May, 2014; all proposed changes would be implemented either in June 2015 or January 2016.
"We are asking members to reject it because we don't believe it's good enough and it's not the mandate we were sent to the table with," says David Lewington, national representative, Unifor.
A rejection of the offer would not be a vote for a strike. Bargaining enters a 21-day mediation phase and both parties will be in a legal strike/lockout position after Feb. 26. Union members would have to hold a separate strike vote before taking that action.
Bell Media also proposes replacing the "Family Day" holiday with a floater day. 
A spokesperson for Bell Media says the company does not comment on labour negotiations.