Spotted! Art comes to the mall
Pattison Outdoor Advertising has partnered with 10 public art galleries for the program.
Artwork housed in 10 of Canada's public art galleries will have a home among the shops and services of shopping centres with the launch of a new program by Pattison Outdoor Advertising.
The OOH company has partnered with the 10 galleries to display digital replicas of artwork on Pattison Onestop-owned digital boards in malls around the country.
Sharon Switzer, national arts programmer and curator, Pattison Onestop, says the art on display will be linked to a temporary exhibit happening at the gallery, offering new opportunities to build audiences. The art, between five and 20 different images, will be accompanied by a URL for the relevant gallery's website as well as exhibit information.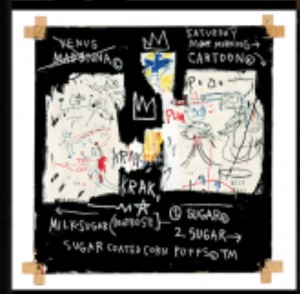 The program launched Feb. 9 and will run until Dec. 31. It is an expansion on Pattison Onestop's "Art in Transit" program, which brings artwork to Toronto and other cities' transit systems.
The museums featuring the art and the malls featuring the work include Vancouver Contemporary Art Gallery (Oakridge Centre), Richmond Art Gallery (Richmond Centre) in Richmond, B.C., Glenbow (Sunridge Mall) in Calgary, Art Gallery of Alberta (Southgate Shopping Centre) in Edmonton, Winnipeg Art Gallery (Kildonan Place) in Winnipeg, Art Gallery of Ontario (in the PATH system) in Toronto, Art Gallery of Mississauga (Dixie Mall), Ottawa Art Gallery (St. Laurent Centre), Musée d'art contemporain de Montréal (Centre Eaton) and Art Gallery of Nova Scotia (Mic Mac Mall).
Photo and artwork credits: Jean-Michel Basquiat: Now's the Time exhibition at the Art Gallery of Ontario.