Bell Media's 'final offer' accepted by union
Unifor local 723M has ratified the media co's offer, ending collective agreement bargaining that began in May.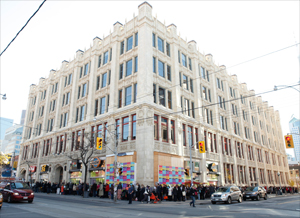 Members of Unifor Local 723M, the union representing about 720 full- and part-time Bell Media staff in Toronto, have voted to accept the company's final offer in bargaining over the collective labour agreement.
The union says that 82% of eligible voters cast ballots, with 57% of members voting in favour of accepting the offer.
The vote concludes a bargaining process that started in May 2014.
A sticking point in the negotiations was the conversion of workers from a CTV Benefits and CHUM Defined Benefit Pension Plan carried over from the company's previous ownership to Bell's OMNIFLEX benefits and Bell's Defined Contribution pension plan. There were 272 union members in the legacy defined benefit plan.  The union's bargaining committee had recommended rejecting the offer but Lewington says he believes some members were hesitant to enter the 21-day mediation phase. Both parties would have been in a legal lockout/strike position as of Feb. 26.
"It's going to certainly adversely affect those people in the defined benefit pension," says David Lewington, national representative, Unifor. "But I don't think it was the only thing for people to consider."
The next steps will see the union and Bell Media meet and finalize the collective agreement. All proposed changes will be implemented either in June 2015 or January 2016.