How Murdoch Mysteries solved a classic (car) conundrum
Canadian International Auto Show exec Beth Rhind on how she turned her fandom for Murdoch into a solution for an exhibit at the show.
When Beth Rhind, the Canadian International Auto Show's event manager and media relations director, had to solve the problem of creating a historical exhibit in a modern-day venue, she turned to an unlikely source of inspiration: Shaftesbury's Murdoch Mysteries.
Rhind was tasked with designing the show's "Art and the Automobile" exhibit, showcasing 19 "concours-quality" (an automotive industry term for high-quality automotive restoration) cars to demonstrate the evolution of artistic form in automobiles. To make best use of the 22-foot ceilings in the Metro Convention Centre, Rhind said she decided to use large-scale backdrops of Toronto architecture through the decades for the exhibit.
However, she hit a roadblock when she reached out to Toronto Archives about using its historical photos.
"I started with Toronto Archives back in September, but their images were too small to be reproduced as backdrops. I watch Murdoch Mysteries regularly and wondered if they might be able to help us," says Rhind.
"So I called Shaftesbury out of the blue back in October and pitched my idea to Katherine [Wolfgang, VP marketing and communications, Shaftesbury]," she recalls. "It was very brave of her to say yes and support my design vision, but she did and the exhibit has been a huge success."
Wolfgang said the partnership provided an opportunity to expand the Murdoch Mysteries brand into a new space.
"The Canadian International Auto Show provided us with a unique opportunity to showcase the series – along with the rich history it brings to life – in an unusual and unexpected setting, with some of the rarest and most beautiful cars in the country," Wolfgang said.
Six of the Toronto historical streetscape backdrops included in the exhibit were provided by Shaftesbury and Rocket Science VFX's Robert Crowther, who is the visual effects supervisor for Murdoch Mysteries. All of the images used in the exhibit were also used in Murdoch Mysteries at some point throughout the series. Rocket Science VFX created the images based on photos of Toronto from the late 19th and early 20th century.
Murdoch Mysteries is currently in its eighth season on CBC. Average ratings for the season thus far sit at 1.27 million, according to Numeris final +7 numbers provided by Shafestbury. The Canadian International Auto Show runs until Sunday, Feb. 22.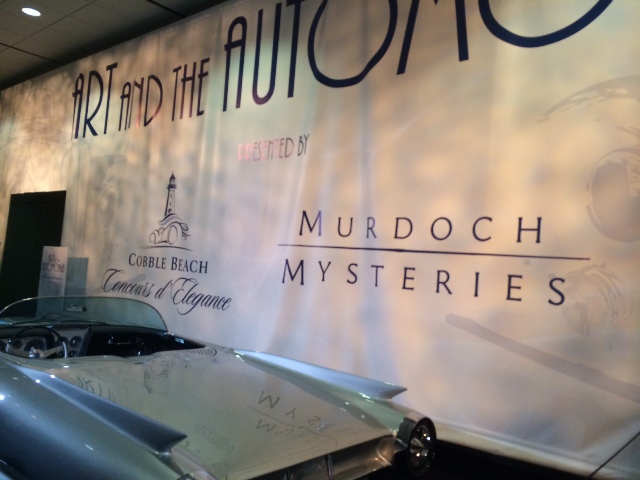 From Playback Daily