Rogers Radio seals station rebrand with a Kiss
The reformatted 103.1 in Victoria, the third Rogers station this month to take the Kiss moniker, will feature top-40 songs from artists like Sam Smith (pictured).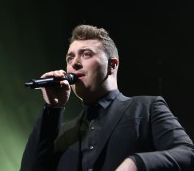 Rogers Radio is rebranding Victoria-based 103.1 Jack FM to Kiss 103.1 and switching out its adult contemporary music for top-40 songs.
On Tuesday around 4 p.m. PST the station began a run of commercial-free music. That will continue until next Tuesday, when a new morning show program, "Kiss Mornings with Matt and Vanessa," will air at 6 a.m. Each Monday thereafter will be commercial free.
Jack FM, with the slogan "Playing whatever! Whenever," had targeted a broader adult audience ages 25 to 54. It is successful in other markets, including Halifax and Calgary, but had not been performing well in Victoria, says Julie Adam, recently appointed SVP of Rogers Radio.
The reformatted station targets females aged 18 to 34 and fills a void in the market, Adam says, as no other station focuses on top-40 music. Adam says Kiss will partner well with Rogers-owned Ocean 98.5 – a light rock station targeting females 33 to47 – offering advertisers the ability to target females 12+ across both stations.
The Victoria-based station is the third in the past two weeks to change its name to Kiss, though it's the only one that is also changing formats. Sonic, a station with signals in Vancouver, Abbotsford and Chilliwack, and Winnipeg's 102.3 CLEAR FM, both recently changed names to Kiss, taking the total number of Rogers-owned Kiss branded stations across Canada to 10.
Adam says the stamping of the Kiss brand creates efficiencies – such as one logo – and offers advertisers the opportunity to be associated with that brand across markets.
"We still deliver a local product and are focused on our local communities," she says. "But for sure we are able to do things behind the scenes in a way where we can deliver a better product when we have this one overarching brand, from imaging to branding, to apps and mobile."
Adam says there will be no jobs lost as a result of the rebrand. 
Image courtesy of Shutterstock.