Ads hit the fast lane
Toronto-based startup CommutingPays is pairing advertisers with commuters to create mobile signage.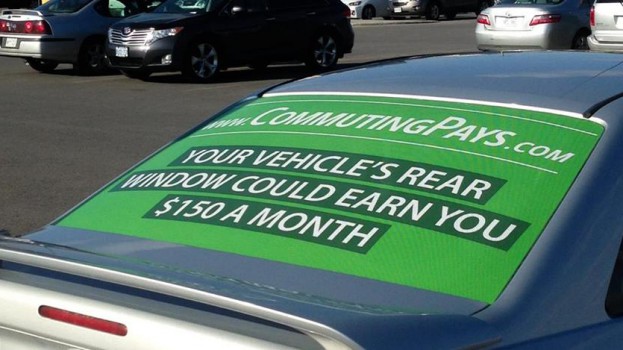 A new Toronto company promises to have ads zipping around city streets and highways as part of a plan that pairs advertisers with commuters.
CommutingPays has signed up hundreds of drivers across the Greater Toronto Area that are ready to earn $150 per month for making their everyday commute with a perforated vinyl ad plastered on their rear windshield. The company is in the midst of a sales push to match brands with the drivers and plans for a hard launch of the service this spring.
Tom Ritchie, one of the company's founders, says he believes there's a market for the ads because consumers who have tuned out other forms of advertising are likely to be surprised to see them as they sit at a traffic light or idle in traffic along Highway 401.
The ads are also likely to have a captive audience. According to the 2011 National Household Survey, more than 15 million Canadians commute to work, with 11.4 million driving a vehicle to work while another 860,00 rode as passengers. Commuters spent an average of 25 minutes travelling to work, with the longest average travel time being in Toronto, at 32 minutes.
"When you're driving with eyes on the road, you have to look forward," Ritchie says. "Placing an ad on a back window in front of you becomes, in my opinion, the closest thing to an intrusive ad you can find."
The service also offers an attractive price for advertisers, he says, with the company's research predicting that buying media for two vehicles, at a cost of $479 per vehicle, will deliver on average between 375,00 and 750,000 impressions per month. Campaigns can run three months, six months or over a year, he says and the company is also offering an in-house creative service for advertisers that don't have a creative agency. Advertisers also have the option of wrapping some vehicles, though by law the wrap cannot cover the windshield, driver or passenger side windows.
It's not the first time a company has tried this and of course taxi companies have been wrapping cabs in ads for some time, but Ritchie, the founder of student-marketer community site Ad Buzz, believes his team of trained marketers can make a go of it. The company is currently promoting the service with (you guessed it) ads on the back of cars.
Drivers are assessed on a number of factors before being allowed to participate in the program, including their past driving record, driver's insurance, age of their vehicle, its condition and whether it has after-market accessories installed. The company also pulls the driving abstract for potential drivers. Once signed on, drivers have to approve an ad before it goes on their vehicle.