What's behind BNN's audience bump?
January was the best month in nearly two years for the 24-hour business news channel.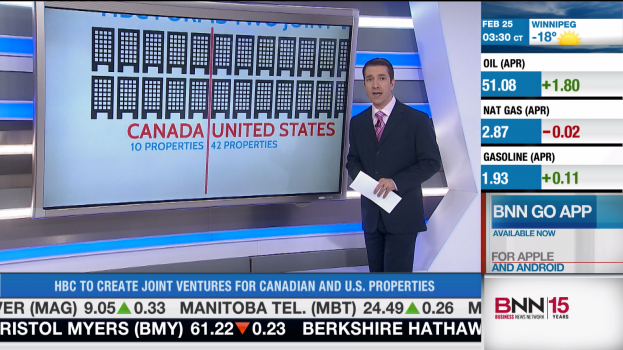 Target announcing it was pulling out of Canada. A surprise rate cut by the Bank of Canada. Falling oil prices. These significant news events drove some major traffic to Bell Media-owned Business News Network's TV and online properties in January.
But Grant Ellis, the channel's general manager, also credits new features and story treatment at the 24-hour business and financial news channel.
"We had all of our ducks in a row when the news was hitting the right way," Ellis says.
With Bloomberg announcing it will launch a 24-hour business news channel, BNN will soon face increased competition. But in January, at least, it saw tremendous growth, having its best month in nearly two years.
Recent changes at the channel include a 4 p.m. show introduced in November, called The Close, which wraps up the day's markets, a new in-focus segment covering either the day's top news or more off-beat topics like social media. It has also added some personality to how it covers the top story that day, giving its take on the story at the top of the hour.
"We have a fantastic set of guests coming through here and often are making news on the show but not always emphasizing it," Ellis says. "The key is it's a more concerted focus on what we're doing but with stories we think will cut through."
Throughout January, BNN had an average of 25,000 adult viewers per minute while the North American markets were open, a 24% increase over the same month last year. Overall, viewership increased 16% compared to the same month the previous year, its highest level in 23 months. Meanwhile on its digital platforms, including BNN.ca, average video views and visits were up 70% and 79% compared to the monthly average in 2014, thanks in part to the growth of its BNN GO app, which has been downloaded more than 60,000 times.
Weekly viewership throughout the month was just under one million viewers, Ellis says.
Ellis, who returned to the channel where he'd formerly been a producer in August, leaving his managing editor position at the Financial Post, says ratings have been going up each month. He also credits the return in August of popular TV personality Kevin O'Leary, who left the CBC's The Lang and O'Leary Exchange.
Ellis says the next step for the channel is to better integrate the BNN brand throughout Bell Media and CTV news online properties. 
"We are the business hub for CTV News and the talk radio stations but on the digital side we are just scratching the surface there," he says.
Image: BNN host Michael Hainesworth