CBC unveils new original productions, renewals for 2015/16
New titles added to the pubcaster's lineup for 2015/2016 include The Romeo Section, from Da Vinci's Inquest creator Chris Haddock.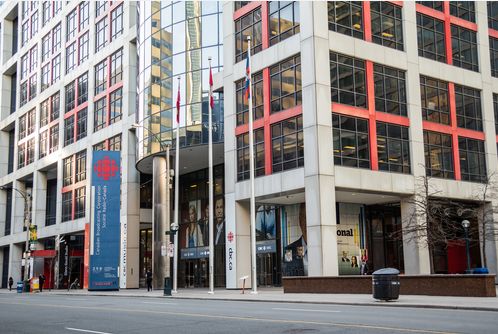 CBC has its replacement for Strange Empire.
The pubcaster on Wednesday said Da Vinci's Inquest creator Chris Haddock is returning with an espionage thriller,  The Romeo Section, about a veteran agent out to recruit a high-value informant.
The CBC ordered 10 episodes from Haddock Entertainment for a Fall 2015 debut.
The network also unveiled the long-gestating comedy Kim's Convenience, based on a stage play and co-written by Ins Choi and Kevin White. Thunderbird Films and Soulpepper Theatre are producing 13 half-hour episodes of the drama, about a fiery patriarch and his family and business in Toronto's Regent Park neighbourhood, for a 2016 air date.
Also on the CBC slate is Shoot the Messenger, a drama about a young journalist embroiled in gang warfare and power politics while investigating a murder case. Hungry Eyes Entertainment is producing eight one-hour episodes for the CBC.
The upcoming slate also includes the sketch comedy series Baroness Von Sketch Show (5 x 50 minutes), from Frantic Films, and the previously-announced New Address drama, an English language adaptation of the Radio-Canada series Nouvelle Adresse, from Sphere Media Plus.
The CBC also previously announced it was bringing over Bruce McCulloch's Young Drunk Punk comedy  from Accent Entertainment and Seven24 Films as part of a programming swap with rival City.
Rhombus Media's Michael: Tuesdays & Thursdays is returning with another six half-hours in 2016. Temple Street Productions, Flashbang Productions and Ostar Enterprises X Company has also earned a new season order. The Stephanie Morgenstern and Mark Ellis-helmed drama earned 1,051,000 (2+ confirmed) viewers for its premiere episode, which aired on Feb. 18 at 9 p.m.
Also coming back with new seasons is Schitt's Creek, Mr. D, Heartland, Murdoch Mysteries,  Rick Mercer Report and This Hour Has 22 Minutes.
On the factual side, CBC has ordered six hour-long episodes of Force Four Productions Keeping Canada Alive for a Fall 2015 bow, and 10 half-hours of Hello Goodbye from Pivotal Media. Shaftesbury's Fool Canada will have a Summer 2015 bow with 10 half-hour episodes, along with Frantic Films' Still Standing (13 x 30 minutes). Canada's Smartest Person, Dragons' Den and Steven and Chris will all return with new seasons in Fall 2015.
Image: Atomazul / Shutterstock.com
From Playback Daily with files from Julianna Cummins