Torstar revenue down in fourth quarter
The company is betting big on the launch of a tablet product later this year.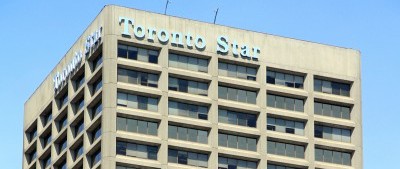 Beset by falling ad sales, TorStar Corporation saw another fall in revenue during the fourth quarter of 2014.
The company recorded segmented revenue of $244.9 million, down $26.6 million or 9.8% from the same period in 2013, while net income attributable to equity shareholders was $20.6 million, or 26 cents per share, which was nearly unchanged from the previous year.
Despite the declining revenue at the company's Star Media Group and Metroland Media, Torstar's executives were enthusiastic that the launch of the Toronto Star's tablet product later this year will broaden its reach and help it connect with younger audiences.

"We are enthusiastic about the launch of a new tablet product at the Star scheduled for this fall and see this as integral to our commitment to the future of the brand across platforms," president and CEO David Holland said in an earnings call on Wednesday. The company is spending between $13 and $15 million on the tablet product, which is being developed by La Presse. 
The Star is buoyed by the success La Presse has had with its La Presse+ tablet product, which had 438,372 readers during the week of Jan. 5 to 11, according to third-party app measurement company Localytics.
But Toronto Star publisher John Cruickshank acknowledged that he and fellow executives have asked themselves whether that success will prove to be unique to the Quebec market.
He says Torstar has taken into account the level of competition it faces but said, "We feel that the La Presse+ app is quite distinct and this is a larger market with access to an even greater market across North America," he says. "With discounting that we've done it still looks like a great operation."
In addition to the tablet, Cruickshank says the company will also look at potential investments in its Metro papers in the West. 

"We really feel there is an opportunity to increase readers in Calgary, Edmonton and Vancouver."
Executives said both Metroland Media Group and Star Media Group are expected to face challenges in 2015 due to advertisers shifting spend elsewhere. On the positive side, the decline in print ad revenue at Metroland Media slowed compared to the same quarter in the previous two years and was down 2% but the executives noted it was hard to predict these moderate declines would be maintained this year.
The company sold its Harlequin operations last year and closed three print publications and seven online-only publications  at Metro, where revenue was down relative to the prior year's fourth quarter. The Star also made the decision to drop its paywall and said it would expect some decline in revenue as a result.
Digital revenues for Star Media Group decreased 2.9% in the quarter as a result of smaller revenues at Workopolis and Olive Media but partly offset by revenues at Eyereturn Marketing.