Guinness' mobile ad unit puts a pint in users' hands
The Diageo Canada brand's St. Patrick's Day-themed mobile execution lets consumers complete the perfect pour.
This St. Patrick's Day, Guinness is encouraging consumers to pour themselves a pint even before they enter a pub.
Working with mobile advertising platform Addictive Mobility, the Diageo Canada brand has developed a "tilt to pour" mobile ad unit that lets users pour themselves a Guinness pint by tilting their mobile device to the side.
Once they've filled their glass to the brim, users are directed to the microsite GuinnessSPD.ca, where they can enter their location to be provided with a list of nearby bars serving Guinness.
The ads are served in-app to users based on behavioural and location-based targeting, such as proximity to bars, pubs and stores where beer can be purchased.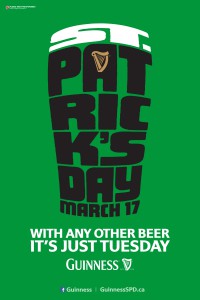 The ad unit appears as an interstitial, taking over the page and launching once someone has clicked to confirm they are the legal drinking age.
"It's interesting because it's not just a tilt to pour, but it had to be the perfect pour," says Jeffrey Martin, CD at Addictive Mobility, in reference to a Guinness brand tradition of promoting the "perfect pour."
The execution builds on the brand's 2015 St. Patrick's day marketing push, which, amongst other media, has seen bright green outdoor ads proclaiming "with any other beer, it's just Tuesday."
Joel Mallard, marketing director, Diageo Canada, says St. Patrick's Day represents the single largest pillar program for Guinness with spend beginning 30 to 60 days before the actual day, a similar amount of spend for the "holiday" period of October until December.
Guinness directed 40% of its media spend on mobile this year, Mallard says, representing specific booking of its entire English digital campaign.
In addition to the mobile ad unit, the St. Patrick's Day campaign included a TV buy on top sports stations in English Canada and Quebec, a digital campaign that included home page takeovers, search, programmatic buys and customized ad units and published content, as well as an OOH campaign in the GTA and other large markets. 
Carat handled media strategy for the campaign and TraffikGroup the creative.
Main image via Shutterstock.