SXSW: Where the 'S' stands for sticky
CMDC board member and Havas Media VP Maura Hanley on the tech and ideas that stood out at the fest, including ImageThink's graphic recordings (pictured).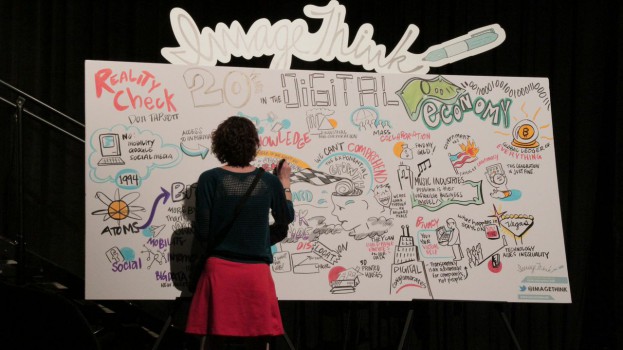 Canadian Media Directors' Council board member and VP at Havas Media Maura Hanley is in Austin at SXSW. Here's her take on the tech and ideas that stood out. And, in case you missed it, here's yesterday's post about "Moving branded content to the next level" and her post from Monday on "The angel and the devil of data." 
Tuesday was the fifth and final day at SXSW and it was still overwhelming – with as many as 28 concurrent sessions running at more than a half-dozen conference venues, plus activities at a variety of corporate venues, attended by more than 70,000 official participants and plenty of hangers-on. Amid all that, I navigated through the commotion to investigate which technologies at the festival will be the stickiest with consumers.
Meerkat is the new Snapchat
Meerkat conquered SXSW with endless buzz among festival-goers. Everyone is talking about this live streaming video smartphone app, though I haven't heard anyone willing to declare whether this is the next big thing or something we'll all have forgotten about in a few months.
There are two interesting things about the app. First, it is highly addictive, like Snapchat, and the content can be enabled to disappear once it has been streamed. Perhaps we will be seeing more apps that can create content designed to be immediate and perishable. Secondly, this is an app designed for your phone, not something that has been moved over from the desktop like Facebook. With the global penetration of smartphones exceeding personal computers, it's likely that a mobile-first or mobile-only app will become the next big platform.
Experiential stunts can still delight
A stand-out experiential engagement campaign on the streets of Austin was Saint Bernard rescue dogs "saving" people that need their phone charged. Mobile battery case company Mophie partnered with the Saint Bernard Rescue Foundation to send dogs to people who tweeted their low-battery level and location. I saw several Saint Bernards out and about with little barrels around their necks holding chargers. Hard to resist a big fluffy dog that wants to help you.
Real-time creativity  
The creation of "graphic recordings" by New York-based Imagethink was fascinating to watch as illustrators created the most-discussed topics in real-time during presentations. The conversations were captured in colourful, fun and inspiring ways. Wishful thinking for the next board meeting?
All about the "Internet of Things"
The IoT was definitely trending at SXSW in conversations and sessions, with connected products on the showroom floor ranging from smart appliances to devices and apps seamlessly integrated between digital and physical worlds. The most exciting item for me is a fridge that will not only know when I'm out of milk but also order more for me.
Also on display was new smart home products that control various appliances. One provided cups of beer from a keg equipped with a digital sensor to alert a host when it is running low. I'll toast to that.