Smokebomb, Shaw, shift2, Schick partner on series
The multi-platform comedy series will appear first on Slice.ca and YouTube and will later be reformatted for TV.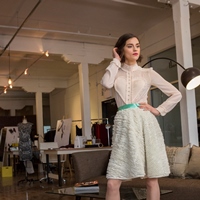 Shaw Media, Shaftesbury's Smokebomb Entertainment, agency shift2 and Schick Quattro for Women have teamed up to produce the multi-platform comedy series MsLabelled.
The series, which is being unveiled today at BCON Expo in Toronto, was financed by Schick, Shaw Media and Smokebomb Entertainment/Shaftesbury, with Smokebomb/Shaftesbury holding the IP. The first six episodes of the vlog-style series are currently available on Slice.ca and the VervegirlTV YouTube channel, and marks Schick's first venture into YouTube content.
MsLabelled includes 20 four-minute long episodes that will roll out every Tuesday and Thursday on Slice.ca and VervegirlTV, along with additional Schick branded content featuring cast from the series. The VervegirlTV YouTube channel is also home to Carmilla, a web series produced by Smokebomb and shift2 and fully financed by U by Kotex.
MsLabelled follows the story of Ella, who tries to find her voice in the fashion industry by launching a blog after she lands a job at a magazine run by Jeanne Beker (who player herself and also serves as an executive producer on the series) while competing with the fashion rag MirrorMirror. Following its run online, the MsLabelled episodes will be repackaged for TV to air on Slice at a later time.
In addition to the web video content, MsLabelled will have a significant social media component. The character of Ella will be posting photos to Tumblr and Instagram to showcase her take on fashion, with the goal of collaborating with real-life bloggers to create a space to talk about fashion. A fictional MirrorMirror Twitter feed will post tweets throughout the run of the series. Fans of the show can also access recaps, behind-the-scenes footage and sneak peeks via Instagram, Tumblr and Twitter.
The MsLabelled cast include Rebecca Liddiard (Between), Sara Hennessey (Just for Laughs), Richard Young (Degrassi), Shawn Ahmed (Paranormal Investigators) Spencer Robson (Reign) and Beker.
MsLabelled is produced by Shaftesbury/Smokebomb Entertainment and shift2 in association with Shaw Media and Schick Quattro for Women. The series is produced by Smokebomb's Steph Ouaknine and Jay Bennett, and executive produced by Beker, Christina Jennings and Kaaren Whitney-Vernon. MsLabelled was created and written by Alexandra Clarke and directed by Zoe Robyn.
Photo credit: Michael Peart