Online video leading global ad spend boost
ZenithOptimedia is predicting global ad spend will grow by 4.4% in 2015, but has slightly reduced its forecast for this year and next.
ZenithOptimedia is forecasting that global ad spend will rise by 4.4% in 2015. This prediction factors in a drop of 0.5% from the media co's previous estimates, due primarily to the deepening recession in Russia, Ukraine and Belarus, and a slowdown of growth in China.
Looking ahead, ZenithOptimedia predicts that 2016′s ad spend will rise 5%, bolstered by the Rio Summer Olympics and U.S. presidential election. With the absence of those events in 2017, ad spend growth will drop to 4.8% in 2017.
Canadian ad spend is predicted to follow a similar trend with an estimated 1.4% growth in 2014, slightly lower than the previously predicted 1.7%. Zenith predicts 2015 spend will grow by 1.1%, with a stronger 2.8% jump in 2016.
The fastest growing advertising category globally is online video, thanks to growth in mobile video consumption and increased purchasing of internet-connected devices. Globally, mobile devices accounted for 34% of all online video plays in 2014, up from 17% the previous year.
Video and mobile growth will fuel a 10% jump in digital ad revenue in 2015 in Canada. Mobile is expected to see a 40% boost in investment, thanks to display, search and video spending migrating to that platform. The platform has already surpassed magazines and OOH in terms of investment in Canada, and will likely overtake display overall and perhaps search by 2017, according to Zenith's numbers.
In Canada, persistent economic uncertainty meant a slower-than-expected 2014 ad market. Specifically, projected growth in radio and OOH did not meet expectations, and the full economic recovery expected for 2015 will now likely be another year out, according to the report.
OOH is expected to see investment growth of 6.1% when final 2014 numbers come in, with mobile investment and an increasing number of digital screens driving growth.
Radio advertising in Canada is expected to come in at a soft 1.3% growth when final numbers are in later this year.
Print media in Canada continues to erode at 10% per year, and broadcast is showing unexpected drops in the year-to-date, due to slow sales on conventional TV to start the year. TV sales are expected to rebound moving into the summer, with the FIFA Women's World Cup coming to Canada, followed by the Pan Am games in Toronto. Modest sales to start the year have caused ZenithOptimedia to reposition its spend estimates for TV to -4.5% from +0.4% in Canada.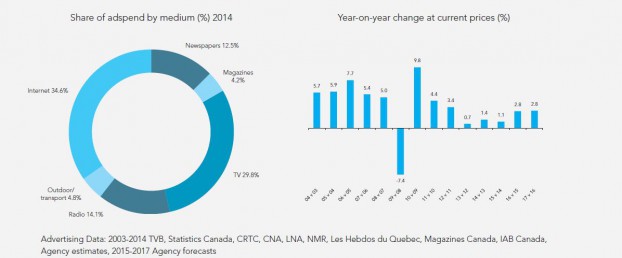 Image courtesy of Shutterstock