Consumers think brands are falling short on mobile
Research from IPG Media Lab and Yahoo shows expectations for personalization on the devices aren't being met.
Consumers aren't satisfied with the level of ad personalization on their mobile devices, according to research from the US divisions of IPG Media Lab and Yahoo.
The study asked consumers who use smartphones, tablets and desktop computers, to respond as to whether ads were providing geographically-relevant information and also if they were providing a personalized ad experience.
Those using smartphones reported the biggest discrepancy between their current experience, and their expectations, around the question of ads providing geographically relevant information. Consumers using tablets were most likely to respond that their current ad experience on the device was the most disconnected from the expectation that they should be getting a more personalized ad experience.
The survey questioned more than 5,000 consumers in the U.S. and tested 81 variations of ads based on nine different elements of personalization across smartphones, tablets and desktop computers.
When it comes to the types of personalization consumers want to see on devices, there was a discrepancy between what they said they wanted, and what they responded most to. The survey respondents reported feeling most comfortable being targeted with ads based on their demographics and engagement with the site. But, when engaging with test ads, consumers responded best to ads that were targeting them geographically and based on what they are doing online.
Overall, 55% of consumers said personalized ads would save them time and keep them from browsing irrelevant content. And the younger the responder, the more they were likely to report wanting to see personalized ads. Personalized ads were reported as being more appreciated overall when consumers were feeling anxious about an expensive purchases, like cars and travel.
Brands that personalized ads based on the consumer's social media usage, past purchases, search terms and location saw increases in overall favourability and purchase intent.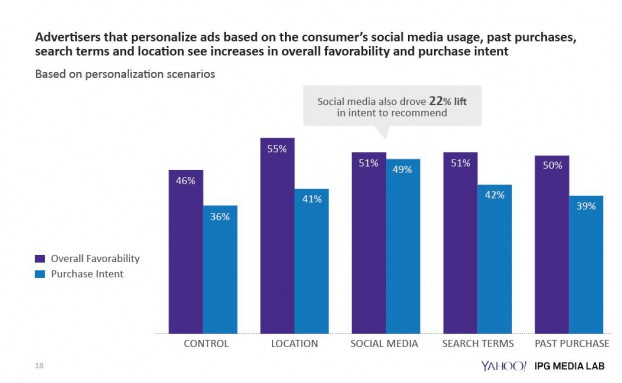 Image courtesy of Shutterstock