Digital readership surges: Nadbank and PMB
The top newspapers and magazines in Canada from the amalgamated group, which is gearing up to release its new study in July.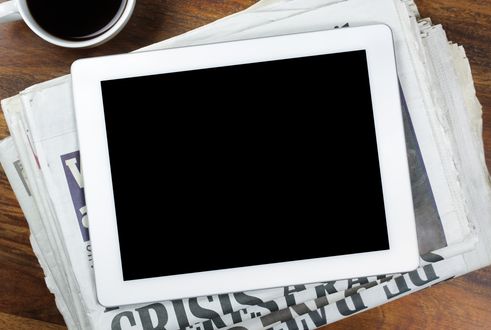 Canadian readership of digital newspapers and magazines is surging, according to the latest report from the amalgamated NadBank and PMB.
The report is the last under the old format for the two groups. A new expanded study went to market in January, and the first of the new quarterly reports will be released by the group under a new name in July.
According to the PMB report, which covered data collected for a two-year period ending in Dec. 2014, over three-quarters of Canadians reported having read a magazine in the past three months. Digital magazine readership was up by 67% for the period over the Fall 2014 report, and had almost tripled in two years.
The study found younger Canadians (aged 12 to 34) were as likely as the general population to be reading a magazine each month (77%) and each group reported reading 2.5 titles a month.
NadBank collected data for 2014 on the readership of 41 newspaper titles in 18 markets. It found that newspaper brands reached over 70% of Canadians every week. According to the numbers, print readers decreased 2% per year over the past five years, while digital readership had jumped 40% since 2010. Mobile newspaper readership grew by 30% last year to reach more than 1.7 million readers per day.
About 70% of young Canadians aged 18 to 34 reported reading newspaper content each week, though they are more likely to read a digital edition. More than three-quarters of upper income (household income of $100,000 and up) and managers or professionals reported reading newspaper content each week.
Top five English magazines (by average issue audience):
1. Reader's Digest: 3.9 million readers
2. Canadian Living: 3 million readers
3. Canadian Geographic: 2.9 million readers
4. Cineplex Magazine (free magazine): 2.7 million readers
5. Chatelaine: 2.4 million readers
Top five French magazines (by average issue audience):
1. Coup de pouce: 1 million readers
2. L'actualité: 846,000 readers
3. Ricardo magazine: 782,000 readers
4. Châtelaine: 759,000 readers
5. Sélection du Reader's Digest: 647,000 readers
Top newspapers (average issue audience):
National:
Print/Digital:
1. The Globe and Mail: 1.6 million readers
2. National Post: 768,300 readers
Toronto:
Print/digital:
1. Toronto Star: 1 million readers (708,900 print readers)
2. The Globe and Mail: 666,100 readers (373,100 print readers)
3. Metro: 538,900 readers (499,200 print readers)
4. The Toronto Sun: 456,800 readers (332,100 print readers)
5. National Post: 331,900 readers  (177,400 print readers)
Montreal:
Print/digital:
1. La Presse: 705,500 readers (269,300 print readers)
2. Le Journal de Montreal: 497,400 readers (401,000 print readers)
3. Metro: 326,200 readers (316,200 print readers)
4. Montreal Gazette: 298,600 readers (183,600 print readers)
5. 24 Heures: 210,000 readers (191,700 print readers)
Vancouver:
Print/digital:
1. Vancouver Sun: 395,600 readers (269,000 print readers)
2. Vancouver Province: 339,900 readers (255,900 print readers)
3. 24 Hours: 224,100 readers (218,400 print readers)
4. Metro: 222,800 readers (203,700 print readers)
5. The Globe and Mail: 187,900 readers (98,900 print readers)
Image courtesy of Shutterstock