Hudson's Bay buys the top spots: Media Monitors
The retailer purchased the most radio advertising in Montreal and Toronto for April 20 to 26.
Hudson's Bay bought the most radio advertising in both Toronto and Montreal for the second successive week, according to the Media Monitors report for April 20 to 26.
In Toronto, the #2 spot was taken by the Honda Dealer Association, climbing from #35 the previous week and demoting the Nissan Dealer Association to this week's #3. Rounding out the top 5 was Rogers Wireless climbing one place to #4, and the Ford Dealer Association dropping one spot to #5.
Behind Hudson's Bay in this week's chart for Montreal was Space TV at #2 and Ford Lincoln Mercury moving down one to #3.
New entry FedEx was this week's #4, while Chevrolet dropped two spots to #5.
Toronto: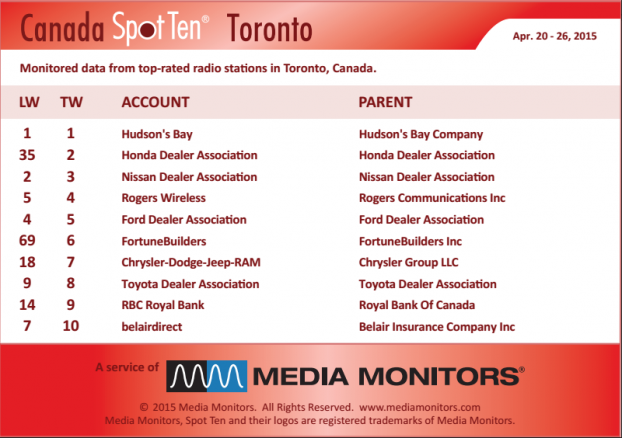 By category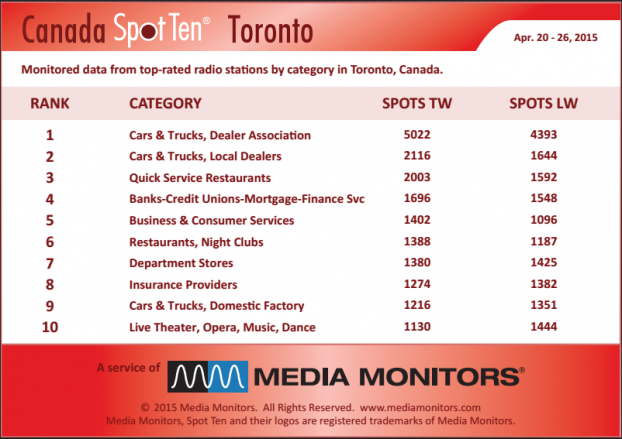 Montreal: 
By brand
By category