CBC/Radio-Canada unveils its Pan Am Games plan
The pubcaster will broadcast over 750 hours of coverage of the Pan Am and Parapan Am Games this summer.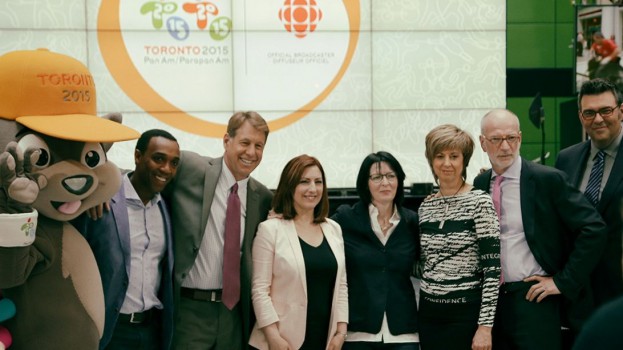 Warmer weather is finally showing its face across Ontario this week, and CBC/Radio-Canada marked the sunshine yesterday with a Toronto event unveiling its multi-platform broadcast plans for the 2015 Pan Am and Parapan Am Games.
The Games are the third-largest international sporting event in the world, hosting over 10,000 athletes, coaches and team staff from 41 countries, and will be broadcast from Toronto and the Greater Golden Horseshoe Area of Ontario beginning July 10.
CBC will have daily broadcasts in the afternoon, primetime and late night, covering each of the events throughout the Pan Am Games, along with daily primetime and late night broadcasts summarizing the day's events. The afternoon broadcasts will air in local time across the country, while the evening and late night broadcasts will be live to audiences in Ontario and to the east, airing in local time to areas west of Ontario.
The CBC's Scott Russell will host a nightly primetime show from 8 p.m. to 10 p.m. and the late-night programming block from 11:30 p.m. to 12:30 a.m. recapping the day's top events.
The CBC's broadcast partner on the Games, Sportsnet, will air coverage of the Pan Am soccer tournament and provide encore broadcasts of all CBC's Parapan Am Games coverage.
French-language coverage on Radio-Canada will include daily afternoon broadcasts from 1 p.m. to 4 p.m. on weekdays and 2 p.m. to 5 p.m. on weekends, and will be hosted by  Marie-José Turcotte. Marc Durand will host coverage of the Parapan Am Games on Radio-Canada with a nightly broadcast recapping the day's events.
Digitally, the CBC/Radio-Canada will stream more than 650 hours of live coverage throughout the Pan Am and Parapan Am Games. Coverage will be online in English and French, as well as through an upcoming iOS and Android app.
Image by Pascal Chiarello/CBC (from left to right): Pan Am/Parapan Am Games mascot Pachi; event emcee and CBC News Toronto host Dwight Drummond; CBC Pan Am and Parapan Am Games host, Scott Russell; event emcee and host of Radio-Canada's Téléjournal Ontario, Catherine Lafrance; EVP, english services, CBC/Radio-Canada, Heather Conway; Radio-Canada Pan Am host, Marie-José Turcotte; CBC/Radio-Canada president and CEO, Hubert T. Lacroix; and Radio-Canada Parapan Am Games host, Marc Durand.