Declining print ad sales hit Torstar's Q1
The company's segmented revenue was down nearly 23% from the same period last year.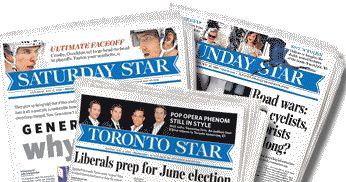 Torstar's first-quarter revenue was down 22.9% for the three months ending March 31, pushed downwards by continuing pressures on the print advertising market. The media co's segmented revenue went from $211.3 million in 2014 to $192.3 million this year.
David Holland, president and CEO of Torstar, said in a statement that the company saw an overall decrease of 19% in print advertising for the quarter, which is higher than the 17% seen for the same period last year. The company's EBITDA was $11.2 million for the quarter, down $3.3 million from $14.5 million in the first quarter last year, and includes a digital tax credit.
Holland added that the advertising year got off to a slow start in January, but has posted "relative improvement" since then.
Star Media Group revenues in the first quarter of 2015 were also negatively impacted by the closure of print operations in three of Metro's smaller operations in the third quarter of 2014. Metroland Media Group's declines in print advertising and flyer distribution revenues were felt the most in January of this year, with numbers moderating slightly in February and March. Flyer distribution revenues were down largely as the result of closures and financial challenges from a few large retail customers.
Digital ad revenue was down 3.3% relative to the same period in 2014. That decrease was the result of lower revenues at Olive Media, Workopolis and WagJag. Removing those declines from the three units, digital revenues were up 7.1% for the quarter year-over-year. The growth in digital revenue reflects the continued growth of eyeReturn Marketing, Metroland's local community websites and digital services, the company said.
Multi-platform revenue was relatively stable in the first quarter at Torstar, but is expected to decline slightly following the removal of the Toronto Star's website paywall at the start of April. Digital revenue is expected to grow through the remainder of 2015.
The Star Media Group is on track to release a new tablet product in partnership with La Presse this fall.