Data Dive: More moms on mobile
The 2015 Mobile Personas report shows who is using phones and tablets and how it's impacting path to purchase.
More moms are using mobile devices, which are becoming an increasingly important part of the path to purchase, according to this year's Mobile Personas report.
A collaboration between consumer insight company Brandspark, mobile advertising company Tapped Mobile and app strategy company App Promo, the Mobile Personas report is an analysis of responses from 4,000 Canadian participants who own a smartphone and/or tablet. The data was collected from mid-October to the end of November of last year as part of Brandspark's Canadian Shopper Study.
While the number of millennials and males using a smartphone, tablet or both remained relatively stable, 82% of women over 25 with kids are now mobile, compared to 70% last year. Social media is becoming more popular among moms (last year's top apps in the demographic were ones that checked the weather), but the use of mobile devices at some point in the path to purchase has risen across all demos and product categories compared to last year.
Check out the key findings in the infographic below, and compare it to last year's study to see how the results have changed: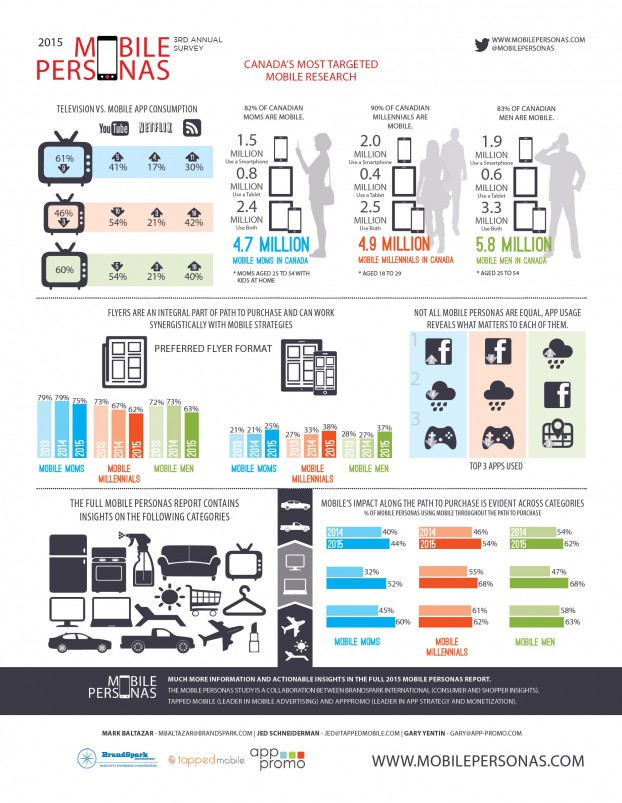 With files from Jennifer Horn
Featured image courtesy Shutterstock