Cross-platform programmatic marketplace launches
Called Discover Media House, the marketplace is able to incorporate platforms from radio to TV, in one place.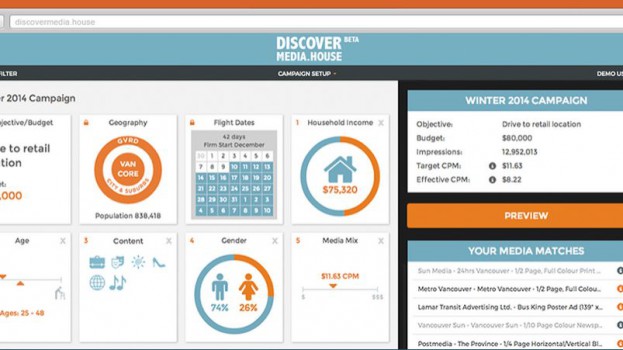 Vancouver-based Discover Media House has launched with what it calls an Expedia for media, a programmatic ad-platform that incorporates radio, print, television, online and OOH advertising, in one place.
The platform asks clients to set the campaign targets, and then supplies a range of media companies across all the represented platforms, based on the campaign criteria.
Founder Steve Lowry most recently worked as co-founder of Play Taxi Media, and says the idea for the marketplace came from recognizing a need in the market for media buyers to be able to get more granular in their targeting, and save time doing it.
Discover Media House is backed by DDB chairman and CEO Frank Palmer's investment capital firm Palmer Rogers Encore, and is targeting small to medium-sized clients for its launch.
Clients don't pay for using Discover Media House, all processing fees are handled by media suppliers that have inventory on the marketplace.